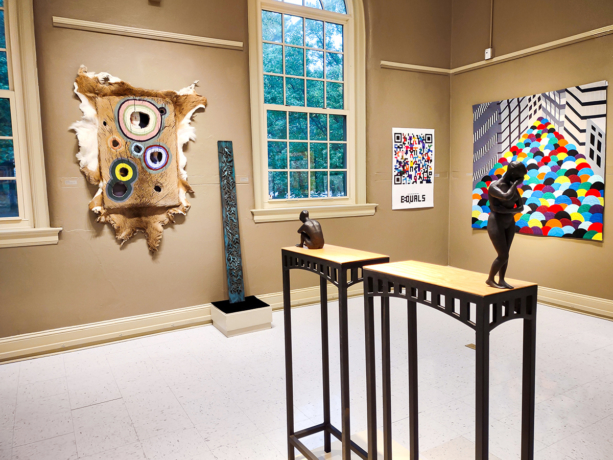 Exhibitions
FL3TCH3R EXHIBIT: SOCIAL AND POLITICALLY ENGAGED ART
The Tenth Annual FL3TCH3R EXHIBIT is an international juried exhibition. Co-sponsored by the Mary B. Martin School of the Arts at ETSU, the exhibition explores current trends, and part of its mission is to serve as an avenue for societal transformation through exposure to social and political points of view. This exhibition explores current issues important to visual and auditory artists. The 2022 exhibition runs Oct. 3rd-Dec. 9th.
---
The 2022 juror is Wesam Mazhar Haddad, who is a Conceptualizer, Creative Director, Art Director, Graphic/ Social/ Sustainable Artist-Designer, and the Founder/ Curator of the Annual Intercontinental Poster Competition - Poster Stellars - New Jersey - USA.
Work accepted reflect current issues that affect contemporary culture and investigate societal and political concerns. Submissions were accepted from the following categories: audio/sound, ceramics, digital, fiber, glass, graphic design, jewelry/metals, mixed media (2D), mixed media (3D), painting, performance/installation (via video), photography, printmaking, book arts, sculpture, video/film, medical/health care and other.
"The Reece is proud to once again welcome the 'FL3TCH3R Exhibit' to the museum. Now more than ever, providing a welcoming space for these social and political works to be viewed, experienced, and discussed is so very important" says Rebecca Proffitt, Reece Museum Director.
For more information on The FL3TCH3R Exhibit, visit Website: http://www.FL3TCH3Rexhibit.com
---
The Reece Museum is a unit of the Center of Excellence for Appalachian Studies and Services, which is housed in the ETSU Department of Appalachian Studies. The Reece Museum is located on the campus of East Tennessee State University and is open Monday through Friday, 9 a.m. to 4:30 p.m. For more information, please phone (423) 439-4392. ETSU is an AA/EEO employer.