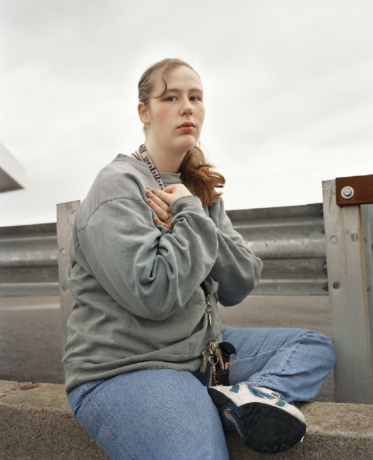 Exhibitions
FACE IT: REIMAGINING CONTEMPORARY PORTRAITS
Elizabeth Bick
Barbara Bosworth
Alejandra Carles-Tolra
Elinor Carucci
Lois Conner
Carlos Diaz
Jess Dugan
Marc Elliot
Anne Fishbein
Emmet Gowin
Nancy Hellebrand
David Hilliard
Joe Johnson
S. Billie Mandle
Daniel McInnis
Greg Miller
Andrea Modica
Matthew Montieth
Nicholas Nixon
Thomas Roma
Sage Sohier
Mike Smith
Mark Steinmetz
Jo Ann Walters
The ETSU Department of Art & Design and Slocumb Galleries in collaboration with the Mary B. Martin School of Art, Bowling Green State University Fine Arts Center Gallery, Reece Museum, Women's Studies Program and the Tennessee Arts Commission proudly present FACE IT: Reimagining Contemporary Portraits from October 10 to 28, at Slocumb Galleries and October 11 to November 22 2016, at the Reece Museum. There will be a joint public reception on October 18, Tuesday, from 4:30 to 6 p.m., followed by photographer Jo Ann Walters' public lecture at the Ball Hall Auditorium at 6 p.m., funded by the ETSU Student Government Association (SGA) B.U.C. Funds through the Student Photography Association (SPA).
The visual portrayals of each individual at the FACE IT exhibition confront photography's role in placing both mundane and transformative portraits into the collective cultural memories and social histories. The FACE IT exhibit and lecture are supported by the Art Builds Communities (ABC) Grant from the Tennessee Arts Commission, Mary B. Martin School of the Arts and ETSU Student Government Association (SGA) B.U.C. Funds in partnership with the Student Photography Association, Women's Studies Program, Department of Mass Communication, the Honors College and School of Continuing Studies & Academic Outreach.
FACE IT: Reimagining Contemporary Portraits explores the diverse landscape of modern and contemporary photographic portraiture. The diverse works selected in the exhibition investigate the fundamental question of how the "ostensibly 'ordinary' portrait photograph has the potential to be so transformative" vis-à-vis issues of identity. The curators explored the "nature of the relationships between an individual and the "collective/s" in which s/he becomes situated and identified, including gender, race, class, and culture" through the photographic images. These issues are especially relevant within the discourse and current context of social media, which continuously redefines and alters the boundaries between public and private spaces, as well as between the self and other/s.
The exhibition features work by prominent photographers Elizabeth Bick, Barbara Bosworth, Alejandra Carles-Tolra, Elinor Carucci, Lois Conner, Carlos Diaz, Jess Dugan, Marc Elliot, Anne Fishbein, Emmet Gowin, Nancy Hellebrand, David Hilliard, Joe Johnson, S. Billie Mandle, Daniel McInnis, Greg Miller, Andrea Modica, Matthew Montieth, Nicholas Nixon, Thomas Roma, Sage Sohier, Mark Steinmetz, Jo Ann Walters, and ETSU faculty Mike Smith.
The Slocumb Galleries are located at 232 Sherrod Drive, ETSU campus. Gallery hours are Mondays thru Fridays from 10 a.m. to 4:30 p.m. with extended hours during receptions, Thursdays until 6 p.m., and by appointment. For more information, contact Slocumb Galleries' Director Karlota Contreras-Koterbay via email contrera@etsu.edu or call/text 423.483.3179. Parking and handicapped access are available. Please visit the ETSU PlanIt Calendar under Exhibitions or www.etsu.edu/cas/art/galleries for event updates.