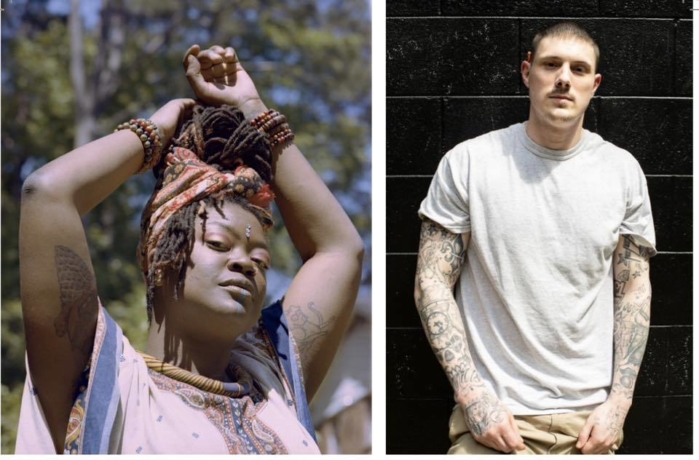 Exhibitions
ENGAGING THE SOUTH
William Major & Jane Lindsay, Billie Wheeler, Julie Rae Powers, Jerry D. Greer, Amber Dawn Farley, Noah Booshu, Matthew J. Brown, Joi West, Joshua K. Harr
ETSU Department of art & Design and Slocumb Galleries present Engaging the South a group photography exhibition with reception on June 2, First Friday from 6 to 8 pm at Tipton Gallery with guest of honor Prof. Mike Smith, nationally-renowned Appalachian Photographer.
The exhibition brings to light new voices challenging negative stereotypes of the South through open dialogue and narratives from a wide spectrum of photographers.
Engaging the South will be open from June 2 to July 22. This exhibition is curated by Joshua K. Harr and Will Major. The photographers come from a variety of backgrounds and offer unique personal perspectives that are empowered by photographs. The artists William Major & Jane Lindsay, Billie Wheeler, Julie Rae Powers, Jerry D. Greer, Amber Dawn Farley, Noah Booshu, Matthew J. Brown, Joi West and Joshua K. Harr works illuminate the often-overlooked conversations surrounding the region's past and identity.
Will Majors and Jane B. Lindsay work looks at the educational opportunities for nonviolent inmates at the Harlan County Detention center to receive college credits. They provided programing to promote self-expression by creating antithetical mugshots with an alternative process of photography.
Julie Rae Powers" photographs broaden the limits of identity in rural Appalachia by providing voice and recognition to the queer community experience who are often overlooked.
Amber Dawn Farley's photographs of rural community of Shady Valley, Tennessee by cataloging the slow change to the landscape, residents including her own family.
Billie Wheeler's introspective self-portraits distort the face and discuss the relevance psychological masking in modern society.
Noah Booshu's photographs document his exploration of the homeland of his blues music heroes in Mississippi. The images represent the emotional impact he felt with the overwhelming size of the histories of enslaved people whose struggles influenced blues music in Mississippi.
Jerry Greer body of work addresses the economic impact, environmental devastation and negative health complications experienced by the communities due to the modernization of coal mining technology in Central Appalachian Mountains.
Matthew J. Brown photographic project displays a subjective and an initiate view of his families personal experience of his grandparents last years. The challenging inevitable senescence is balanced by an optimistic acceptance and appreciation for what limited time they have together by embracing every moment no matter how trivial or mundane.
Joi West's photographic investigations of the LGBTQ+ populace in Alabama and resulted in becoming close to these induvial by allowing this process of intimae questions to explore their vulnerable aspects of their nature captured in portraits. The desire to archive these narratives and giving voice to unheard stories allows others to be seen, heard, and remembered through photographs.
Joshua K. Harr's photographs offer a personal look into the landscape and historical cultural shortcomings. Many old cliches due to racism to cruel religious philosophies, poor education, and hateful iconography are challenged. This body of work is hopeful in creating a new conversation and building bridges in spite resistance to change known so well by the region's inhabitants.
Through their lenses,
the audience is invited to empathize with the ever-changing physical landscape and societal values of the American South. Please join us in celebrating these artists who "Engage the South" through the photographic medium and create powerful narratives that defy the status quo.