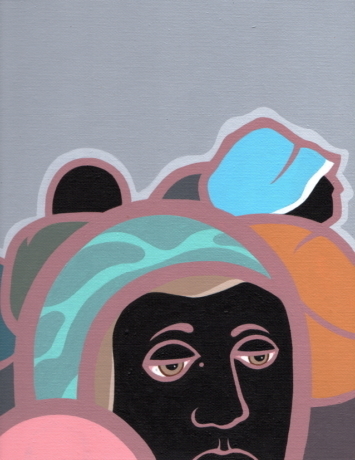 Exhibitions
DETANGLING/UNRAVELING THE POLITICS OF HAIR: BLACK TN
Olivia Ellis (Bristol)
Brandon Donahue & Jessica Gatlin (Nashville)
Lawrence Matthews (Memphis)
Lester Merriweather (Memphis)
Carl E. Moore (Memphis)
Althea Murphy-Price (Knoxville)
Carlton Wilkinson (Nashville)
Valerie Houston (Memphis)
Presented by ETSU Department of Art & Design and Slocumb Galleries in partnership with the Umoja Festival, Student Activities Allocation Committee (SAAC), the Tennessee Arts Commission's Arts Build Communities (ABC) Grant and the Diverse & Beautiful Collaborative proudly present 'Detangling/Unraveling the Politics of Hair: Black TN' from September 6 to 30, 2018, at the Tipton Gallery. Curated by Slocumb Galleries Director Karlota Contreras-Koterbay and UMOJA organizer Karen Sullivan, The public is invited September 7, First Friday Reception from 6 to 8 p.m. during Umoja Festival, with guest of honor Dr. Angela Lewis, Vice Provost for undergraduate Programs, Curricula and Service at ETSU.
The exhibition explores the politics of hair and its nuanced roles in the negotiation of identity and race. The artists invited employ hair as agency, either as subject matter or media, as intentional element in their re-investigation of African American historical narratives, with conscious efforts to reclaim collective identity/representation by reconnecting to their cultural heritage that reveals the mechanisms of marginalization, stereotyping, towards re-construction of more empowered identities.
The artists, in one way or another depicted the 'black hair/black body' as sites of contention, negotiation and agency, as well as objects of desire, contemplation, resistance and empowerment. Hair and its intimate significance within the context of corrupted history, cultural memory and self-representation bore such presence and possibilities that these artists employ as empowering agent.
Truly inspiring and much needed during this renewed era of racism, revival of White supremacists and violent killings of African American youth, artists continue to serve as conscience, advocates, or provocateurs, reflecting the social injustices, 'whitewashed' historical narratives and re-evaluation of 'alternative facts'. This exhibition is part of the wider, growing support on the plight of fellow Americans whose hair or skin color are different from the dominant group, thus, considered the 'other' and relegated to the periphery, often 'unseen', if not victims of 'culture vultures' or worse, piled statistic should of heinous crimes.
The multi-media exhibitions provide diverse visualizations of how artists have employed hair as subject and media for the reclamation of identity versus cultural appropriation, as well as tactile material to push forward the critical dialogues involving race and social justice.
As part of the exhibition, Memphis-based storyteller and musician Valarie Houston will perform excerpt of her play 'Madam C.J. Walker: First Woman and frican American Millionaire' during the exhibit reception, and at the Johnson City Public Library and Umoja Festival on September 8, Saturday, at 2 pm and 6 pm respectively, with the accompanying 'Johnsonville Hair Parade' featuring diverse work by Crown Cutz Academy and regional hairstylists and salons that celebrate the beauty and creativity inspired by African American hairstyles.
Lastly, a Panel of Black Artists and scholars will be presented at the Slocumb Galleries during the 'Interchangeable: Althea Murphy-Price' reception on September 20, Thursday at 6 p.m., Ball Hall Auditorium. Panelists include artists Knoxville-based artist and educator Althea Murphy-Price, Nashville-based photographer and gallerist Carlton Wilkinson who will discuss African Appalachians and Director of the ETSU Africana Studies Program Dr. Dorothy Drinkard-Hawkshawe will present excerpt of her lecture on 'African Art: Its Uses and Impact on World Art'.
The Diverse & Beautiful Collaborative includes Language & Culture Resource Center, Multicultural Center, Office of Multicultural Affairs, School of Continuing Studies, Dept. of Anthropology & Sociology, Africana Studies, Storytelling Program, JC Public Library, JC Senior Center, Jonesborough Bed & Breakfast, Soleus Massage, Crown Cutz & JC Hairstylists & Women's Resource Center.
The Tipton Gallery is located at 126 Spring St., Downtown Johnson City, with viewing hours Thursdays and Fridays from 5 to 7 p.m., First Friday receptions from 6 to 8 p.m., and by appointment. For more information, contact Slocumb Galleries' Director Karlota Contreras-Koterbay via email contrera@etsu.edu or call/text 423.483.3179. Parking and handicapped access are available. Please visit the ETSU PlanIt Calendar under Exhibitions or www.etsu.edu/cas/art/galleries for event updates.
---
image: Carl E. Moore, On Our Way Home