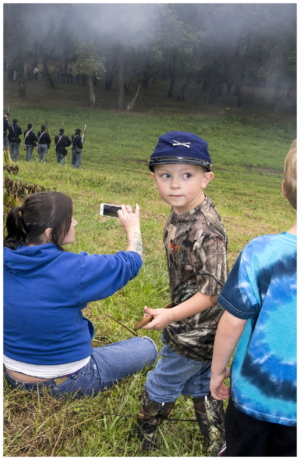 Exhibitions
DESCENDANTS: MFA EXHIBITION BY KATIE SHEFFIELD
Katie Sheffield
The ETSU Department of Art & Design and Slocumb Galleries in conjunction with the Urban Redevelopment Alliance and School of Graduate Studies present Descendants, a Master of Fine Arts exhibition by Katie Sheffield. The exhibit runs from October 31 through November 22, 2016 at the Tipton Gallery, with opening reception on First Friday, November 4th, from 6-8 p.m.
Sheffield photographs individuals who participate in American Civil War re-enactments, as well as the spectators that attend these events. Her work deals with enactors who recreate the past through the persona of their ancestors and how they relate to those attending the mock battles. She feels it is important to show the participants from a contemporary vantage point, while providing the viewer with her perspective on these living historians.
Tipton Gallery is located at 126 Spring St., Downtown Johnson City. Open Thursdays and Fridays 5 to 7 p.m., with extended hours on First Fridays/receptions, and by appointment. All events are free and open to public. For info, email Slocumb Galleries' Director Karlota Contreras-Koterbay at contrera@etsu.edu or call/text 423.483.3179.