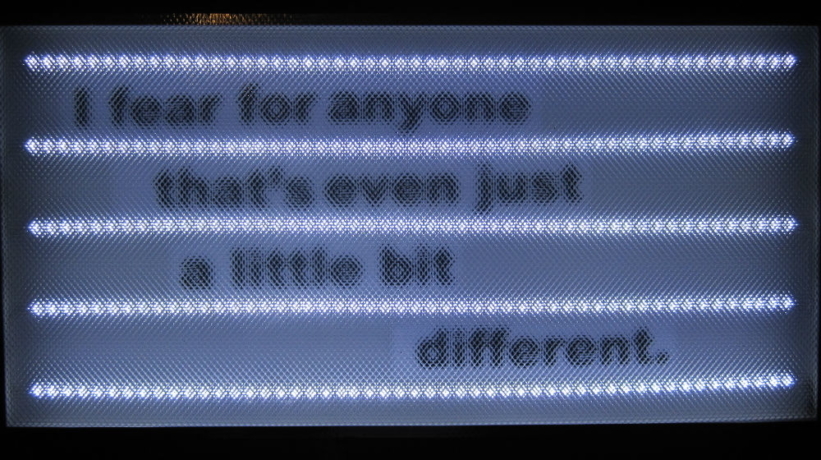 Exhibitions
DENNIS GREENWELL: TRAGIC DISCLOSURES
Dennis Greenwell
The ETSU Department of Art & Design and Slocumb Galleries in partnership with the Honors College, H.E..R.O.E.S., Safe Zone, Women's Studies Program, ETSU Privilege Walk Collaborative, Soleus Massage, First Presbyterian Church, Pride Community Center of the Tri-Cities and Civility Celebrations proudly present Tragic Disclosures by Dennis Greenwell from February 13 to March 3, 2017. The LGBTQ & Allies Panel is on March 2, Thursday at 5:15 p.m., Ball Hall Auditorium with the reception from 6:30 to 7:30 p.m., at the Slocumb Galleries.
The 'Tragic Disclosures: Proclaiming Quotes of Desperation' series by Greenwell features multimedia works inspired by text and letters by LGBTQ youth who have either taken their lives or have suffered from discrimination due to their gender orientation. Greenwell stated, "Witnessing the treatment of LGBT youth in our society has compelled me to create art to confront the situation. For these young people living a life of genuine self should be a basic human right." The works incorporate the statements and phrases, on mixed media paintings as well as installation, photograph and video work.
The 'LGBTQ & Allies Panel' shall discuss various issues and resources affecting the LGBTQ community with speakers representing various sectors from the academia, the community and the religious. The panelists include artist Dennis Greenwell, John Baker, Director of the Pride Community Center of the Tri-Cities, Beth Evelyn Barber, Facilitator for Safe Zone Program and Counseling Center at ETSU, a student representative from Helping to Educate Regarding Orientation, Equality, and the Spectrum (H.E.R.O.E.S.), Beth Sluder from PFLAG TriCities and Rev. Dr. Brian Wyatt, Pastor from the First Presbyterian Church of Elizabethton, TN, and moderated by Kelly Celeste Porter, faculty from the ETSU Department of Art & Design.
The Multicultural Center, Slocumb Galleries, and the ETSU Privilege Walk Collaborative 2017 is also presenting a Privilege Walk focused on Gender and Sexuality, facilitated by H.E.R.O.E.S., on March 2, at 12 noon, at the Multicultural Center. All events are open to the public, free of charge.
The Slocumb Galleries are located at 232 Sherrod Drive, ETSU campus. Gallery hours are Mondays thru Fridays from 9 a.m. to 4:30 p.m. with extended hours during Thursdays until 6 p.m., receptions/lectures, and by appointment. For more information, contact Slocumb Galleries' Director Karlota Contreras-Koterbay via email
contrera@etsu.edu or call/text 423.483.3179. Parking and handicapped access are available. Please visit the ETSU PlanIt Calendar under Exhibitions or www.etsu.edu/cas/art/galleries for event updates.