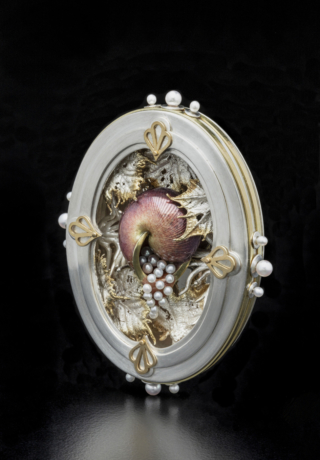 Exhibitions
CONFLUENCE: A VISUAL DISCOURSE OF US ACADEMIC ART JEWELERS
Jessica Calderwood
Kat Cole
Nicole Deschamps-Benke
Robert Ebendorf
Mary Hallam-Pearse
Leah M. Hardy
Mindy Herrin-Lewis
Chris Irick
Anya Kivarkis
Andrew Kuebeck
Keith Lewis
Sharon Massey
Ana Lopez
Sharon Portelance
Sarah T. Roberts
Lin Stanionis
Rachelle Thiewes
Jess Tolbert
Kee-Ho Yuen
ETSU Department of Art & Design and Slocumb Galleries present Confluence: A Visual Discourse of US Academic Art Jewelers curated by Robly Glover from October 5 to 29, 2021 at the Slocumb Galleries. A ZOOM ID 710 908 4999 reception is scheduled on October 27, Wednesday at 5 p.m. for the curator's and artists' talk.
According to curator Glover, "the purpose of this exhibition is to highlight the accomplishments of academic jewelry metalsmiths and give voice to their insights and visual practice" to provide inspiration to the next generation of art jewelry students." He added, "throughout each artists' journey, there is a moment of clarity which inspires innovation and advancement of the field" evident to the works selected for the exhibition.
The exhibition features diverse and distinct techniques, materials and artistic processes by the curated artists from the Texas Tech University's Texas Metals Symposium and from the national juried call via Slideroom.
The Slocumb Galleries are located at 232 Sherrod Drive, ETSU campus. Viewing hours are weekdays 9 a.m. to 5 p.m. with extended hours during receptions and by appointment. For more information, please email contrera@etsu.edu.