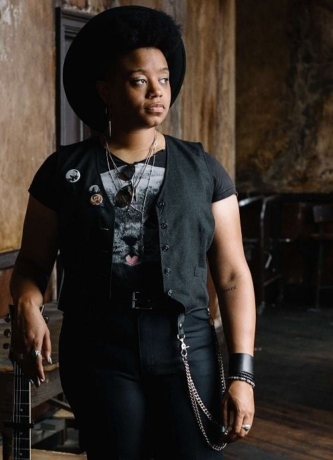 Exhibitions
BLACK DIASPORA: FROM AFRICA TO APPALACHIA TO AFFRILACHIA RECLAIMING HISTORY, MEMORY, AND PLACE AT TIPTON GALLERY
Chris Aluka Berry, LaKisha Blount, Jane Buis, Jason Flack, Nikky Finney, Sean Gerard Clark, Lynn Marshall-Linnemeier, Viola Spells, Frank Walker, Sammie Nicely
BLACK DIASPORA: From Africa to Appalachia to Affrilachia
Reclaiming History, Memory, and Place
In keeping with ETSU Slocumb Galleries mission to provide venues and access to contemporary art within the region through innovative and diverse exhibitions that promote artistic excellence, cultural awareness and creative thinking , we present BLACK DIASPORA: From Africa to Appalachia to Affrilachia Reclaiming History, Memory, and Place currently on view until September 11 at Slocumb Galleries and from August 27 to October 16, Tipton Gallery.
This exhibition features Black artists from Kentucky, North Carolina, South Carolina, Louisiana, Georgia, and Tennessee, namely Chris Aluka Berry, LaKisha Blount, Jane Buis, Jason Flack, Nikky Finney, Sean Gerard Clark, Lynn Marshall-Linnemeier, Viola Spells, Frank Walker and the late Sammie Nicely+.
The events of this year have brought to light, again, the inequalities of race in the United States. These inequalities also exist in the canon of the art world from antiquities to present day representation of Black artists. Many institutions have started to work on correcting the errors of the racial/white privileged view of what/who is important in the art world yet there is still a long way to go. The Black Arts Movement is essential to the history of the United States, and also significant to the world culture in its dynamic complexity. It spurred political activism, liberation of free speech and creative practices in predominantly African-American communities. It encouraged African Americans the chance to express their voices in the arts and have the opportunity for social mobility and recognition.

Particularly in Southern Appalachia, (not unlike many rural areas) the contributions of African Americans are not given its deserved recognition, whether in cultural studies or in American history in general. The richness of any culture is to have as many people engaged and participate, the arts are a great vehicle for community building. This exhibition intends to initiate access for community members to experience art and present interdisciplinary events in relation to the artist's works and the central theme of the exhibition. Art's potential for agency provide opportunities for community solidarity, social inclusion, and push against the cultural isolationism that Appalachia has been historically stereotyped with. It is relevant and invaluable to address issues of identity, collective values, social justice and inclusion in this time of cultural strife and white supremacists' political agendas. Artists and cultural workers are afforded opportunities and responsibilities to serve as beacons of hope, the exhibit BLACK DIASPORA: From Africa to Appalachia to Affrilachia – Reclaiming History, Memory and Place offers communities of Johnson City and the region art engagement possibilities, the chance to know and experience the wealth of art that is produced by Black artists of the Southeast and Appalachia. Understanding that art from communities of color as equally present, valid, and valued will contribute to collective solidarity and critical discourse.

Funded by the Tennessee Arts Commission's Arts Build Communities and Arts Projects Support grants, with the ETSU Student Activities Allocation Committee. The exhibitions are curated by Lyn Govette and Marie T. Cochran, in partnership with the Multicultural Center, Africana Studies, Langston Centre, Language & Culture Resource Centre, Radio/TV/Film Studies, Film & Media Studies, Center for Appalachian Studies & Services, ETSU Foundations, and the New Generation Freedom Fighters.
The physical exhibitions are accompanied by various virtual public community engagement events that can be viewed via ETSU Slocumb Galleries' Facebook Live or Zoom on schedule:
https://etsu.zoom.us/myslocumb... or Zoom ID 710 908 4999.

'ArtQuests' with Viola Spells and Jason Flack'
August 19, Wednesday, 3pm, at Slocumb Galleries
Black Diaspora Panel: Conversations on Race, Education, and Social Justice in Appalachia', September 3, Thursday, 6 pm, Langston Centre
Moderator: Mr. Adam Dickson, Director/Langston Centre
Panelists:
Marie T. Cochran, Founder, Affrilachian Artists Project
Dr. Keith Johnson, Vice President, ETSU Office of Equity & Inclusion
Viola Spells, Affrilachian Artists Project
Dr. William Turner, Appalachian Scholar
Frank X, Walker, Founder, Affrilachian Poet
'Red Summer in Knoxville' and 'Expulsion in Erwin' film showing and Q&A with William Isom II, Black in Appalachia
September 9, Wednesday, 7pm
Performance by Grammy-nominated musician Amythyst Kiah
October 2, Friday, 6 pm
For further information contact Slocumb Galleries' Director Karlota I. Contreras-Koterbay via email contrera@etsu.edu or 423.483.3179. All exhibitions and events are open and free to the public The Slocumb Galleries are available for public viewing weekdays from 9 a.m. to 5 p.m., located at 232 Sherrod Drive, ETSU campus. The Tipton Gallery is open for public viewing on Thursdays and Fridays 5 to 7 p.m. and on First Fridays from 6 to 8 p.m. Request to visit by appointment are also available, please contact Slocumb Galleries' Director to schedule an appointment after hours. Please visit Etsu.edu/cas/art/galleries for future events. Physical distancing inside the gallery is in place, facial masks are required and available free of charge, with the addition of air filters inside the galleries, we are committed to ensuring the safety of staff and visiting public.