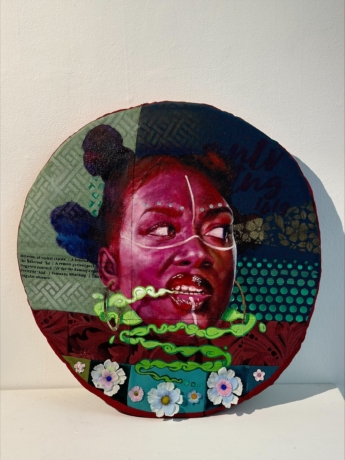 Exhibitions
BLACK BODIES MAKING FORM
William Edmondson
Bessie Harvey
Greg Ridley
Fritz Massaquoi
Sammie Nicely
Hattie Marshall-Duncan
Keisha & Sean Duncan
Calvin Nicely
Bill Capshaw
Roger Smith
Willard Hill
Jane Buis
Jackie Schlicher
Tina Curry
Aundra McCoy
Ludie Amos
Samuel Dunson
Althea Murphy-Price
Viola Spells
Gary White
Elisheba Mrozik
Elise Kendrick
Cynthia Gadsden
James McKissic
Wokie Massaquoi-Wicks
Tobertha Jackson
Jernicya Onyekwelu
Nija Woods
Jimmy Mumford
Kimberly Dummons
Rahn Marion
William 'Bill Johnson
Arthur Eubanks
C.E. McGruger
Jason Flack
Pam Faw
Charlotte Faw
Javan Collie
Donna Olujani
Doniqua Joyner
Dawn Smith
Akintayo Akintobi
Shai Perry
Jerry Marchen
Lydia Wilson
Magdalena Story
Ella Combs
Maddie B. Preston
Delores & Gordon Story
Orange Mound Artists of Memphis
LueElla Marshall
Shamek Weddle
Andrew Travis
Lurlynn Franklin
The ETSU Department of Art Design's Slocumb Galleries with Tennessee Craft and partners proudly presents Crafting Blackness Initiative's Black Bodies Making Form exhibition series and panel. Featuring Black Tennessee Craft artists since 1920, the public is invited to the Crafting Blackness Panel on September 28, Thursday from 4 to 6 at the Ball Hall Auditorium with closing reception for and Black Bodies Making Form at Slocumb Galleries at 6 p.m. with guests of honor Tennessee Craft Executive Director Kim Waag and ETSU Board of Regent Dorothy Grisham.
The exhibitions are co curated by Karlota Contreras-Koterbay with ETSU Advancement director and Umoja board member Karen LeBlanc Sullivan featuring influential and contemporary Black Craft artists from Tennessee including historical figures like William Edmondson+, Bessie Harvey+, Greg Ridley+, Fritz Massaquoi+, and Sammie Nicely+. Governor's art awardees Hattie Marshall-Duncan and Bill Capshaw are also included in the stellar line up of this unprecedented project that will tour the rest of our state until 2027 culminating with blockbuster exhibitions and publications.
Co-curator Karen Sullivan describes the project as "works memorializing history, celebrating protest, venerating faith, and honoring family. We came across works that encompassed, celebrated, elevated, and revealed Black Life through craft." She added, "found and concocted materials transformed into figures expected and unexpected were discovered in humble locations with diverse and talented makers expressing themselves through their creations utilized a broad range of techniques, and points of view." Both curators described the craft practitioners as "visual griots," with the exhibition offering opportunities to expand perceptions in viewing Black life through creations of craft.
The Crafting Blackness Initiative is generously support by Arts Fund of East Tennessee State Foundation, Tennessee Arts Commission's Arts Project Support (APS) and Arts Build Communities (ABC) grants, and In These Mountains Project Grant from South Arts with ETSU's Student Activities Allocation Committee and Mary B. Martin School of the Arts. The exhibitions also boasts some of our partner institutions' collections including the Hiram Van Gordon Gallery from Tennessee State University, the Sammie Nicely Collection of the Reece Museum, West West Tennessee Regional Art Center, Knoxville Museum of Art's Bessie Harvey and Austin Peay University's William Edmondson, the first African American artist featured at MoMA in 1930s that opened immense opportunities for Black folk artists.
The Tipton Gallery exhibit is open for viewing on Thursdays and Fridays from 5-7pm until September 29 while the Slocumb Galleries exhibit is open weekdays from 9 a.m. to 5 p.m. until October 7. The Tipton Gallery is located at 126 Spring St., downtown Johnson city, while Slocumb Galleries is located at Ernest C. Ball Hall, 232 Sherrod Drive, ETSU campus. For more information, please contact contrera@etsu.edu.