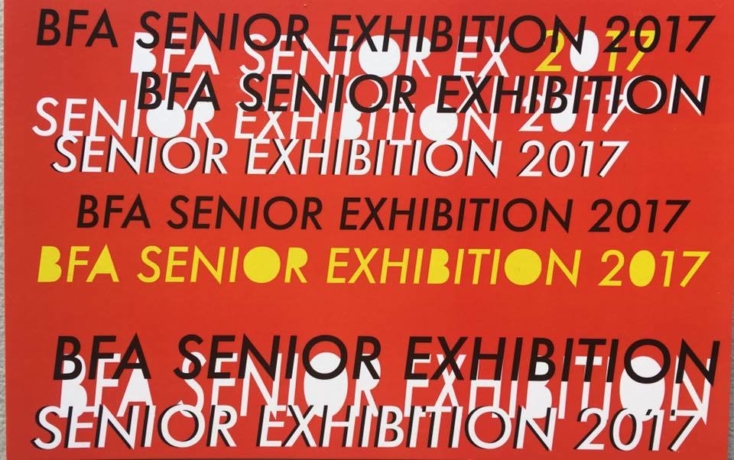 Exhibitions
BFA SENIOR EXHIBITION
Jessica Blindt, Taylor Campbell, Lydiah Merritt, Kaylea Williams
The ETSU Department of Art & Design, the Reece Museum and Slocumb Galleries proudly present BFA Senior Exhibitions Spring 2017 Gala Reception on April 13, Thursday, from 5 to 7 p.m. at both venues with ETSU President and First Lady, Dr. & Mrs. Brian and Donna Noland as guests of honor.
The Reece Museum features 14 BFA senior students with major in Studio Arts and Graphic Design namely Patrick Burke, Arizona Clawson, Josh Dean, Rebecca Edwards, Brian Eisert, Sara Faulkner, Jordan Gillenwater, Mary Holt, Alisa Johnson, Monique Long, Tess Montana, Dustin Shelton, Jennifer Thayer and Katie Watts. The exhibition runs from March 13 to April 26, 2017, at the Reece Museum.
The Slocumb Galleries present 3 BFA senior exhibitions, One-Hundred photography by Jessica Blindt, Beyond Interplanetary Realty graphic design by Taylor Campbell, and The Game prints and graphic design by Lydiah Merritt. The exhibitions are on view from April 10 to 21, at the Slocumb Galleries with Archetypes in Clay, a BA thesis exhibition by Kaylea Williams.
The multi-venue group exhibition at the Reece Museum and the Slocumb Galleries is the first initiative to have a bigger and longer duration student exhibitions to celebrate the creative excellence and diverse artistic process of the ETSU Department of Art & Design Bachelor of Fine Arts (BFA) programs in Studio Art & Graphic Design. This effort is made possible by the collaborative leadership of the Art & Design faculty headed by Chair, Prof. Mira Gerard, and Reece Museum Director Randy Sanders, with Graphic Design faculty David Dixon and the curatorial vision of Reece Museum's Exhibition Coordinator Spenser Brenner in consultation with Slocumb Galleries.
The Slocumb Galleries are located at 232 Sherrod Drive, ETSU campus. Gallery hours are Mondays thru Fridays from 9 a.m. to 4:30 p.m. with extended hours during receptions, Thursdays until 6 p.m., and by appointment. For more information, contact Slocumb Galleries' Director Karlota Contreras-Koterbay via email.