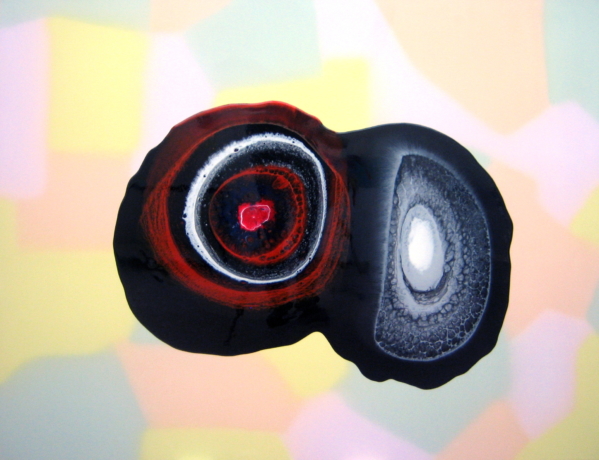 Exhibitions
AT PLAY IN THE FIELDS OF OUR STUFF
Ron Laboray
The ETSU Department of Art & Design and Slocumb Galleries in partnership with the Honors College present 'At Play in the Fields of Our Stuff' from August 17 to September 16, 2016, with gallery talk and reception on September 8, Thursday, from 5 to 7 p.m., at the Slocumb Galleries.
'At Play in the Fields of Our Stuff' features multimedia work by North Carolina-based artist Ron Laboray whose work explore visual narratives via experimental media, frolicking contemporary art with infused humor and wit. He describes, "one of the best aspects about making art today is the loss of a master narrative" allowing the liberty to "create any discourse you wish, in any method or form you desire." Formerly based in Chicago, Laboray is now the graduate faculty at Western Carolina University whose works are amalgamation of "conceptual rigor, a lighthearted humor, and the beauty of a well-crafted object." His glossy paintings that utilize auto and surfboard enamels "oscillate between concepts in abstract mapping, and photographic representation," and treated as historical documents, that "attempt to archive common cultural attitudes by focusing on popular culture." Thus, Laboray's art practice visualizes the "ability of humans to define identity and reality though interpretation and invention," while pushing the boundaries as he goes along.

The Slocumb Galleries are located at 232 Sherrod Drive, ETSU campus. Gallery hours are Mondays thru Fridays from 9 a.m. to 4:30 p.m. with extended hours during receptions, Thursdays until 6 p.m., and by appointment. For more information, contact Slocumb Galleries' Director Karlota Contreras-Koterbay via email contrera@etsu.edu or call/text 423.483.3179. Parking and handicapped access are available. Please visit the ETSU PlanIt Calendar under Exhibitions or www.etsu.edu/cas/art/galleries for event updates.