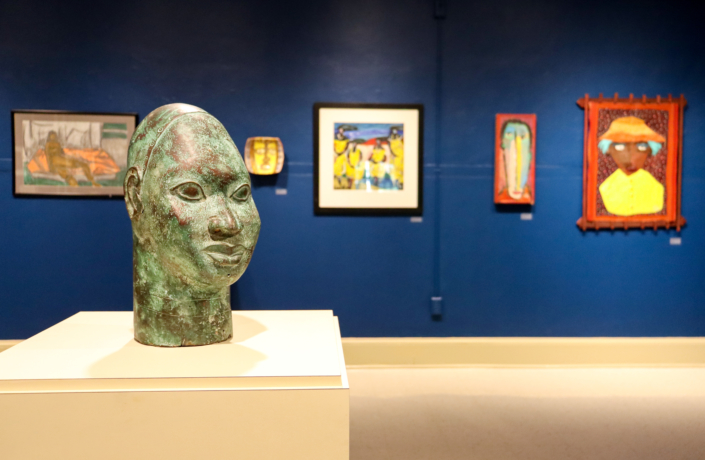 Exhibitions
AN EXUBERANT SPIRIT: THE SAMMIE L. NICELY COLLECTION
Sammie Nicely, Lisa Whittington, Bessie Harvey, Willie Willie, Calvin Nicely, Aundra McCoy, Carlton Wilkinson, Mose Toliver, Lydia Wilson, Jason Flack
An Exuberant Spirit: The Sammie L. Nicely Collection, is now on display at ETSU's Reece Museum through October 13. A reception and celebration will be held on Thursday, June 15, from 4 to 7pm.
Samuel Louis Nicely (1947 - 2015) was an artist and educator who embraced his cultural heritage as an African American man from Appalachia. Nicely self-identified as a contemporary folk artist, and his unique aesthetic is a blended exploration of African and Appalachian ancestry that is evident in both his art and his collection. In 2020, fifty works from Nicely's personal collection were bequeathed to the Reece Museum, and since then the special collection has grown to include 138 works that represent a variety of media and forms.
"This eclectic and diverse collection of works reflects Mr. Nicely's talents and eye for beauty as both a collector and an artist," says Reece Museum director Rebecca Proffitt. "This exhibition is the first opportunity we have had to see the collection as a whole, and to experience the power and emotional impact of sharing space with all of these artworks."
Nicely first became associated with the Reece Museum in the 1980s, when he exhibited his work and facilitated a clay demonstration for a family day event. In 2014-2015, Nicely was the Artist in Residence for the Reece Museum. He created a program to bring Reece artifacts into local schools, where students worked with him to create responsive art, ultimately resulting in an exhibition titled Exuberance: Kids Make Art about Art.
Exhibition coordinator Spenser Brenner worked with Nicely during his residency and remembers that "witnessing the effect Sammie had on young artists and the work they produced was amazing. The energy in the work was palpable — exuberant." Curated to show the breadth of the full collection, An Exuberant Spirit features eighty-one artworks from the full collection. Brenner continued, "With this exhibition it feels like we've been able to come "full-circle" to honor Sammie, his art, his collection and his Spirit."
The Reece Museum is free admission and open to the public Monday - Friday, 9:00am - 4:30pm.