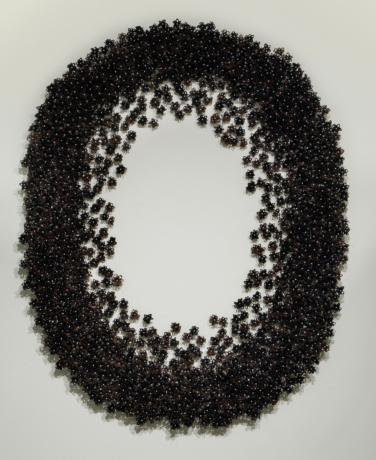 Exhibitions
ALTHEA MURPHY-PRICE: INTERCHANGEABLE
Althea Murphy-Price
The ETSU Department of Art & Design and Slocumb Galleries in partnership with the Student Activities Allocation Committee (SAAC), Tennessee Arts Commission's Arts Build Communities (ABC) Grant, the Women's Resource Center and the Diverse & Beautiful Collaborative present 'Interchangeable' by African American artist Althea Murphy-Price from August 27 to September 20, 2018, at the Slocumb Galleries, with panel on African Americans in TN during the reception on September 20, Thursday, at 5 to 7:30 p.m., Ball Hall Auditorium.
'Interchangeable' features Murphy-Price's work on printmaking and fiber installation employing hair as either subject matter or media, to investigate ideas of beauty and feminine identity through her lens as member of marginalized community. She utilizes a photolithographic approach to mimic the realistic appearance of hair, often, she employs synthetic hair than organic human hair to address issues of "imitation and the notion of a disposable or interchangeable identity." In her prints, she "attempts to challenge the viewer to question the reality of the image by mimicking an extremely realistic appearance" while her sculptural installations "reveal the false nature of the synthetic material by achieving forms otherwise unattainable" that encourages the viewers to take closer look at these tactile objects
Murphy-Price is also included on the group exhibition entitled 'Detangling/Unraveling the Politics of Hair' at the Tipton Gallery from September 6 to 30, 2018, with opening reception on September 7, First Friday during Umoja Festival. Performance of 'Madam CJ Walker: First Woman and African American Millionaire' by Memphis-based storyteller Valerie Houston will be presented during the reception and festival.
Althea Murphy-Price received her Master of Arts in Printmaking and Painting from Purdue University, and later at the Tyler School of Art, Temple University where she earned her Master of Fine Arts. She has exhibited in venues throughout the country and abroad such as: the Weston Gallery, Cincinnati OH; Howard Museum of Art, Baltimore, MD; Wellesley College, Boston MA, Wade Wilson Art Gallery, Houston TX; Indiana University Art Museum, The Print Center, Philadelphia, PA; The Halsey Institute of Contemporary Art, Charleston, SC; and the Knoxville Museum of Art, Knoxville TN. International exhibits include the International Printmaking Exhibition, Jingdezhen China; the American Youth Printmaking Exhibition, Lui Haisu Art Museum, Shanghai, China and Print Resonance, Musashino Art University, Tokyo Japan. She has been an artist in residence at the Frank Lloyd Wright School, University of Hawaii, Hilo, The Vermont Studio Center, and The Venice Printmaking Studio. Her writings and work have been featured in such publications as Art Papers Magazine, CAA Reviews, Contemporary Impressions Journal, Art in Print, Printmaking: A Complete Guide to Materials and Process, and Printmakers Today.
The Diverse & Beautiful Collaborative includes Diverse & Beautiful Collaborative: Language & Culture Resource Center, Multicultural Center, Office of Multicultural Affairs, School of Continuing Studies, Dept. of Anthropology & Sociology, Africana Studies, Storytelling Program, JC Public Library, JC Senior Center, Jonesborough Bed & Breakfast, Soleus Massage, Crown Cutz & JC Hairstylists & Women's Resource Center.
The Slocumb Galleries are located at Ernest C. Ball Hall, 232 Sherrod Drive, ETSU campus, with viewing hours weekdays from 9 a.m. to 5 p.m., with extended hours on Thursdays until 6 p.m., events, and by appointment. For more information, contact Slocumb Galleries' Director Karlota Contreras-Koterbay via email contrera@etsu.edu or call/text 423.483.3179. Parking and handicapped access are available. Please visit the ETSU PlanIt Calendar under Exhibitions or www.etsu.edu/cas/art/galleries for event updates.