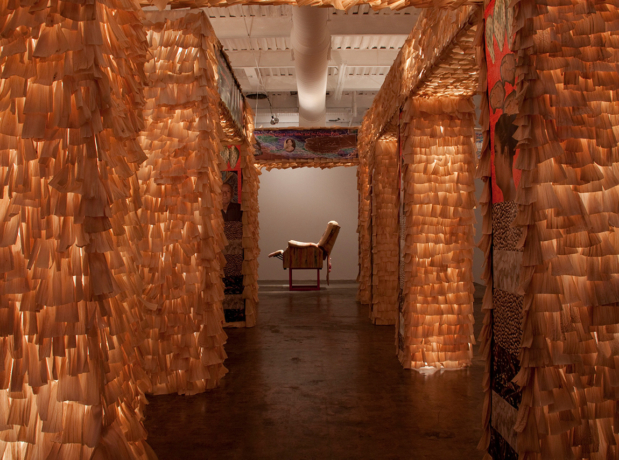 Exhibitions
ALONG THE HORIZON: CONTEMPORARY DRAWING IN TENNESSEE
Nick DeFord (Knoxville), Rob Matthews (Nashville), Jonathan Adams (Johnson City), Paula Kovarik (Memphis), Dawn Martin Dickins (Clarksville), Denise Stewart-Sanabria (Knoxville), P.A. Turner (Telford), Wade Guyton (formerly Knoxville/ currently in NYC), John Hilton (Johnson City), Richard A. Lou (Memphis)
Curated by Vanessa Mayoraz and Andrew Scott Ross
---
The ETSU Department of Art & Design, Slocumb Galleries and the Reece Museum in partnership with the Mary B. Martin School of Arts, Honors College and the Tennessee Arts Commission through the Arts Project Support (APS) grant proudly present Along the Horizon: Contemporary Drawing in Tennessee, curated by Vanessa Mayoraz and Andrew Scott Ross from January 16 to February 23, 2018 at the Slocumb Galleries and the Reece Museum. The panel discussion is on February 15, Thursday, at 5 p.m., at the Ball Hall Auditorium, followed by reception at the Reece Museum.
Along the Horizon: Contemporary Drawing in Tennessee is a group exhibition and panel discussion which focuses on artists living in, or from, Tennessee who utilize drawing as a substantial part of their contemporary practice. The thirteen contributing artists, residing in cities from Memphis to Johnson City, use a range of methodologies, which explore the limits, and traditions of the medium.
The featured artists at the Slocumb Galleries are Ben Butler (Memphis), Joel Parsons (Memphis), and Althea Murphy-Price (Knoxville). The artists featured at the Reece Museum are: Nick DeFord (Knoxville), Rob Matthews (Nashville), Jonathan Adams (Johnson City), Paula Kovarik (Memphis), Dawn Martin Dickins (Clarksville), Denise Stewart-Sanabria (Knoxville), P.A. Turner (Telford), Wade Guyton (formerly Knoxville/ currently in NYC), John Hilton (Johnson City), and Richard A. Lou (Memphis). The panelists discussing 'drawing' as contemporary art practice are Knoxville Art Museum curator Stephen Wicks, with artist/art writer Denise Stewart-Sanabria and University of Memphis Department of Art Chair, Prof. Richard Lou.
For more information, please contact Slocumb Galleries' Director Karlota Contreras-Koterbay via email contrera@etsu.edu or Reece Museum Exhibition Coordinator Spenser Brenner via email brenner@etsu.edu. The Slocumb Galleries are located at Ernest C. Ball Hall, 232 Sherrod Drive, ETSU campus, with handicapped access. Gallery hours are weekdays from 9 a.m. to 5 p.m., with extended hours on Thursdays until 6 p.m., receptions, and by appointment.
---
image credit: Richard Lou