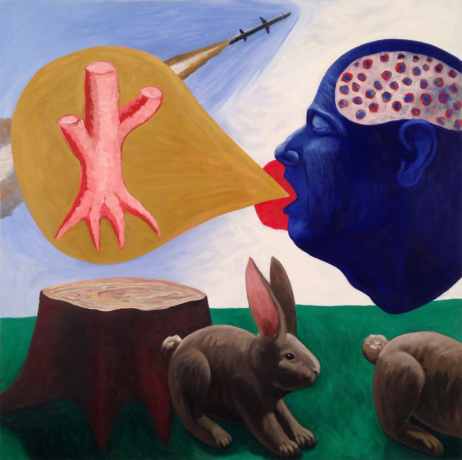 Exhibitions
JOHN FEODOROV: ABSURDITY OF TRUTH
John Feodorov
The Department of Art & Design and Slocumb Galleries in partnership with the ETSU Office of Multicultural Affairs, Student Government Association (SGA) B. U. C. Funds , Slocumb Galleries Student Society, Honors College, and the Tennessee Arts Commission's Arts Build Communities (ABC) Grant through the First TN Development District proudly present Absurdity of Truth by John Feodorov. On view from September 18 to October 14, 2017, with reception on September 21, Thursday, from 5 to 7 p.m., during the 4th ETSU Native American Festival, public lecture starts at 6 p.m. the Ball Hall Auditorium.

Absurdity of Truth is a multimedia exhibition by prominent contemporary artist John Feodorov. As a visual artist with Navajo lineage, Feodorov has strong position about the politics of identity, he states, "I am for an art that kicks my soul in the ass. And if we do not have souls, I am for an art that makes me feel like I have a soul, and that it has just been kicked in the ass".
Presented during the 4th ETSU annual Native American Festival, this exhibition is consistent with Slocumb Galleries' program to present innovative programs that investigate the contemporary imagery and self representations of Indigenous artists. Curated by ETSU faculty of new media Vanessa Mayoraz, the works explore environmental issues, and range from prints, fiber, sculptural installation and video art.
Feodorov explains that his work is often initially considered, or conveniently categorized as under the 'Contemporary Native Art' genre. However, this stereotyped label is something the artist is never been comfortable with. As one of the first artists featured on the PBS documentary series entitled 'Art21' with focus on influential artists of the 21st century, Feodorov discusses his conflicted 'Indian' identity while growing up in Southern California, despite his half Navajo (Dine) heritage and direct contact with relatives on the reservation. During his time at the university, he finally recognized that his experience "was directly related to the termination policies of the mid-20th century," oppressive policies that forced assimilation and intended the "eradication of Native identities". Feodorov's realizes that his "sense of cultural alienation was the goal of Federal Indian policy."

In the Absurdity of Truth are works from the last 5 years that visualizes Feodorov's complex identity and worldview, not limited by his heritage and skin color. He states that he is influenced by "Religion, Philosophy, Gender, Politics, the Arts, Rock music and 1960's TV sitcoms". Therefore, Feodorov strongly expresses that "nothing in this show should be considered solely under the label, 'Native American', ironically, to do so would be to completely misunderstand the Contemporary Native American experience." He added, "while these works reference both historical and ongoing 'Native issues', these issues are also of global concern", just as environmental issues are not just 'Native' concerns.

The public is invited to view the exhibition at Slocumb Galleries and attend the artist's talk during the two-day ETSU 4th annual Native American Festival from September 21-22, from 11a.m. to 6 p.m., at the ETSU Ampitheater near the Culp Center. The lecture and exhibition are funded by the ETSU Student Government Association (SGA) B.U.C. funds through the Slocumb Galleries Student Society, and the Arts Build Communities (ABC) Grant of the Tennessee Arts Commission through the First TN Development District.
The Slocumb Galleries are located at 232 Sherrod Drive, ETSU campus. Gallery hours are Mondays thru Fridays from 9 a.m. to 4:30 p.m. with extended hours during receptions, Thursdays until 6 p.m., and by appointment. For more information, contact Slocumb Galleries' Director Karlota Contreras-Koterbay via email contrera@etsu.edu or call/text 423.483.3179. Parking and handicapped access are available. Please visit the ETSU PlanIt Calendar under Exhibitions or www.etsu.edu/cas/art/galleries for event updates.