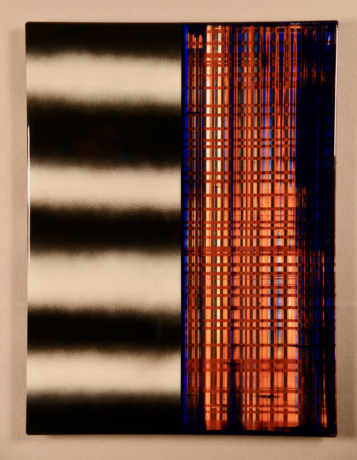 Exhibitions
33RD POSITIVE/NEGATIVE NATIONAL JURIED ART EXHIBITION
Laura Baszynski, MI
Gary Beeber, NY
Susan Beiner, AZ
Katlyn Brumfield, KY
Phillip Chen, IA
Brent Cole, IN
Pamela DeLaura, MI
William Dooley, AL
Farimah Eshraghi, MA
Nicholas Fedak II, CA
Valerie Fuchs, KY
Daisie Hoitsma Young, OH
John Kinsland, TN
Chase Lawrence, GA
Eric Lubrick, IN
Andy Mattern, OK
Noritaka Minami, IL
Joshua Newth, MO
Cynthia Norton, KY
Sophia Park, IL
Joseph Paushel, OH
Sarah Perkins, MO
Winter Rusiloski, TX
Doug Russell, WY
Ben Ryterband, MA
Jean Shon, NY
Brandon Smith, KY
Tom Stephens, CO
Patrick Vincent, MN
Andrea Welton, CA
Beverly West Leach, AL
Charisse Weston, TX
Yingqi Zhao, IN
The ETSU Department of Art & Design and Slocumb Galleries in partnership with the Honors College, Department of Theater & Dance and the Women's Resource Center present 33rd Positive/Negative National Juried Art Exhibition from March 1 to April 6, 2018. This year's juror is Margaret Winslow, Curator at the Delaware Museum of Art. The awarding reception is on March 29, Thursday, at 5 p.m., with the Juror's lecture at 6 p.m., at the Ball Hall Auditorium.
The Positive/Negative is a national juried art exhibition, organized yearly since 1985, to provide the regional community of Appalachia in Northeastern Tennessee, Southwest Virginia, and nearby states, access to dynamic contemporary art practices that explore current directions in visual art. For more than 30 years, the Positive/Negative exhibitions serve as platform for dialogue to promote diversity, creative excellence and critical thinking within the academic and local communities.
---
About the Juror: Margaret Winslow is Curator of Contemporary Art at the Delaware Art Museum. Winslow has curated exhibitions for the Neuberger Museum of Art and The Delaware Contemporary and assisted with exhibits for the Aldrich Contemporary Art Museum. Recent exhibitions at the Delaware Art Museum include Truth & Vision: 21st Century Realism, Dream Streets: Art in Wilmington 1970–1990, and Retro-Active: Performance Art from 1964–1987. In 2010, she attended Independent Curators International's Curatorial Intensive in New York and in 2015, she served as juror for Art of the State: Pennsylvania at the State Museum of Pennsylvania, and the Hunting Art Prize in Houston, Texas in 2013. Public presentations include lectures at the Beijing American Center in China, the Mid-Atlantic Association of Museums, and the University of Delaware. Winslow holds a BA in Art History from the University of Mary Washington and an MA in Modern and Contemporary Art, Theory, and Criticism from SUNY Purchase College.
The Slocumb Galleries are located at 232 Sherrod Drive, ETSU campus. Gallery hours are Mondays thru Fridays from 9 a.m. to 5 p.m. with extended hours during receptions, Thursdays until 6 p.m., and by appointment. For more information, contact Slocumb Galleries' Director Karlota Contreras-Koterbay via email contrera@etsu.edu or call/text 423.483.3179. Parking and handicapped access are available. Please visit the ETSU PlanIt Calendar under Exhibitions or www.etsu.edu/cas/art/galleries for event updates.