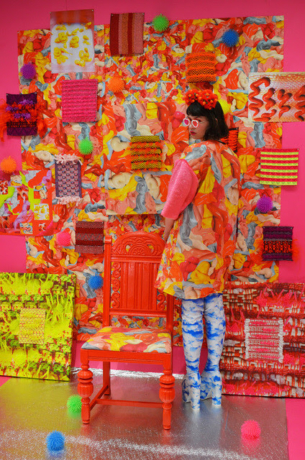 Exhibitions
ZOE SCHLACTER: DID YOU KNOW MY BODY IS WOVEN?
Zoe Schlacter
Elephant Gallery is proud to present "Did you know my body is woven?" — an immersive textile-based exhibition by interdisciplinary artist and designer Zoe Schlacter (they/them).
"Did you know…" is a reflection of Schlacter's interest in weaving as theory and practice, as well as their experience as nonbinary: post-body theory and future-scaping, queer theory, and the history of drag king performance. Throughout their studio practice, Schlacter aims to make work that is joyous to look at, while maintaining a sound conceptual backing.
A native Nashvillian, Schlacter currently works in New York as a designer for Todd Oldham Studio, Kid Made Modern and as a freelance textile designer.