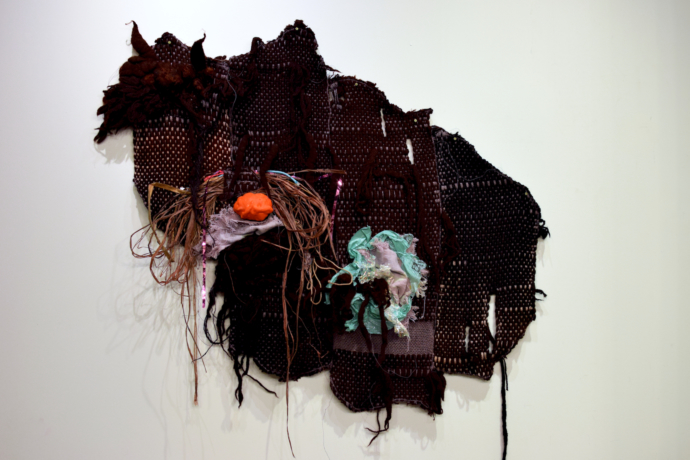 Exhibitions
ZIPPORAH THOMPSON + RICHARD FEASTER
Zipporah Thompson, Richard Feaster
Seed Space + Zeitgeist present a two-person exhibition feat. Zipporah Camille Thompson (Atlanta, GA) + Richard Feaster (Nashville, TN).
Organized by:
Brian + Carolyn Jobe (Seed Space), Lain York + Anna Zeitlin (Zeitgeist)
About:
Zipporah Camille Thompson (Atlanta, GA)
Zipporah Camille Thompson is a visual artist and sculptor based in Atlanta, Georgia. Thompson explores ritual and alchemical transformations through the unknown and through universals, including death, catastrophe, chaos, and the cosmos. Metamorphosed, shapeshifters reflect various archaeological, psychological, and ecological perspectives, as well as a personal investigation of self and identity.
She received her MFA from the University of Georgia and her BFA from the University of North Carolina Charlotte. Her work has been featured in a number of print and online publications. She has shown at the Zuckerman Museum of Art, Trestle Gallery in Brooklyn, Rogue Space in Chelsea, the Georgia Museum of Art, and Whitespace Gallery in Atlanta, GA, as well as a host of other venues and spaces. Her work is included in numerous private collections. Zipporah Camille Thompson is a 2016 Artadia (Atlanta) Finalist, a Hambidge Distinguished Fellow, a former resident of ACRE Projects and Elsewhere Museum, and is a Hambidge Creative Hive Project Artist. Thompson is most recently a recipient of the Zenobia Scholarship Award for residency at the Watershed Center for the Ceramic Arts, in Newcastle, ME, a 2018 NCECA Multicultural Fellow, and a 2018 Idea Capital Research & Development Travel grantee. She is currently a selected artist for The Creatives Program, with studio residency at The Goat Farm.
Zipporah Camille Thompson is represented by Whitespace Gallery in Atlanta, GA.
Richard Feaster (Nashville, TN)
Richard Feaster was born in Hagerstown, MD, and attended Birmingham Southern College (BFA), Tulane University (MFA) and the Skowhegan School of Painting and Sculpture. His work has been exhibited nationally and internationally and is included in many private and corporate collections. In 2016, he was nominated for a Joan Mitchell Foundation Painters and Sculptors Grant. He lives and works in Nashville, TN. Feaster's practice is grounded in the tradition of American twentieth-century abstract painting. He began painting abstractly in the early-1990's, influenced equally by the formalism of the New York School and contemporary prominent process-based painters. He has over the years developed a lexicon of techniques to produce a body of work with a clean and identifiable aesthetic language. His latest paintings begin outdoors by pouring large amounts of a solvent onto canvas and immediately spraying paint into the liquid pools. The resulting images freeze in time the movement of the organic flow of solvent as it spreads out over the picture plane. The pigment of the sprayed paint both documents the fluid shapes of liquid and reacts against it, forming unpredictable areas of shadow, depth and reflections of silver paint. Later, the canvases are further worked in the studio where spills, where drips and pools of paint are collaged onto the paintings and color is added. The resulting images are, despite their spontaneous energetic appearance, a hybrid of painting and collage that are created slowly over time.
Richard Feaster is represented by Zeitgeist Gallery.
---
image: Zipporah Camille Thompson, Landmass, Fields of Glory (2017)