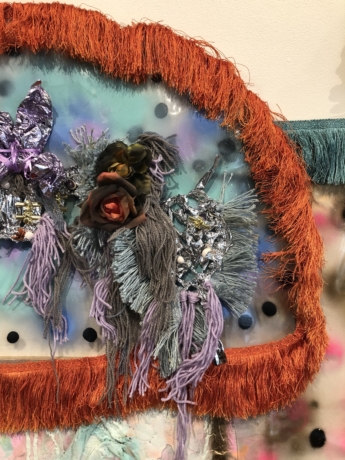 Exhibitions
ZIPPORAH THOMPSON + RICHARD FEASTER: TEXTUREXTRA
Zipporah Thompson, Richard Feaster
Locate Arts + Zeitgeist present a two-person exhibition, TEXTUREXTRA, feat. Zipporah Camille Thompson (Atlanta, GA) + Richard Feaster (Nashville, TN).

Organized by:

Brian + Carolyn Jobe (Locate Arts), Lain York + Anna Zeitlin (Zeitgeist)

About:

Zipporah Camille Thompson (Atlanta, GA)

Zipporah Camille Thompson is a visual artist and sculptor based in Atlanta, Georgia. She explores ritual and alchemical transformations via the unknown and through universals. Metamorphosed, shapeshifters and hybrid landscapes reflect various archaeological, psychological, and ecological affinities, as well as a personal investigation of self and otherness.

Thompson received her MFA from the University of Georgia and her BFA from the University of North Carolina Charlotte. Her work has been featured in Sculpture Magazine and Art Papers, amongst others. She has shown at the Zuckerman Museum of Art, Trestle Gallery in Brooklyn, Rogue Space in Chelsea, Gallery 400 in Chicago, IL, and Whitespace Gallery in Atlanta, GA, as well as a host of other venues and spaces. Her work is included in numerous private collections.
Zipporah Camille Thompson is a 2016 Artadia (Atlanta) Finalist, a recipient of the Zenobia Scholarship Award for residency at the Watershed Center for the Ceramic Arts, a 2018 NCECA Multicultural Fellow, and a 2018 Idea Capital grant recipient. She is currently a selected artist for The Creatives Program, with studio residency at The Goat Farm.
Thompson is represented by Whitespace Gallery in Atlanta, GA.
Richard Feaster (Nashville, TN)
Richard Feaster's most recent body of paintings reflects the artist's longstanding dialogue with the materiality of paint and the processes of mark-making via the abstract canvas. The origins of this journey stretch back to time spent living and working in New York, where he first experimented with graphite and other reflective materials that have become a hallmark of his work.
The central theme of this artwork is the perception of time via the physical experience of material handling and mark-making. Informed by sustained periods of experimental drawing, the resulting mixed media works on canvas embrace spontaneity and directness of approach, a hybrid of drawing technique and traditional painting methods. The physical behavior of the various materials reference time-based action, presented in the work as "drips", "splatters" and "stains", which the artist moves freely about the canvas via collage. This non-linear working method mimics our digital interactions, making visible the mystery of material processes that unfold slowly over time and leaving a visual index of clues for the viewer to pursue. Outside influences (music, visual culture, photography) enter the work in ways both subtle and personal, opening fresh discourse with the tenets of abstraction while skewing that language towards new sites of inquiry.
Richard Feaster was born in Hagerstown, MD, and attended Birmingham Southern College (BFA), Tulane University (MFA) and the Skowhegan School of Painting and Sculpture. His work has been exhibited nationally and internationally and is included in many private and corporate collections. In 2016, he was nominated for a Joan Mitchell Foundation Painters and Sculptors Grant. He lives and works in Nashville, TN.
Feaster is represented by Zeitgeist Gallery in Nashville, TN.
---
image: Zipporah Camille Thompson