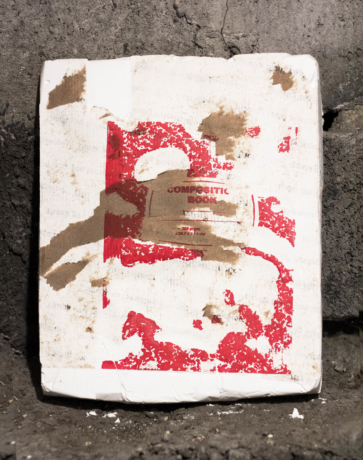 Exhibitions
ZACK RAFULS: TRACINGS
Zack Rafuls
This exhibition of dynamic two and three-dimensional artworks draws on diverse subjects, encompassing representational, concrete, and abstracted forms in various media.
---
Artist's statement:
I'm having a difficult time articulating it. I think it's because these things are in the periphery.
Ghost poems. Present but not directly visible, a film or residue as your skin reimagined. Factory grey, a cruel rhythm. A balancing act, between hand and appropriated sign; between presence and absence. This aggregate doesn't present itself­as­itself, but as tracing­of­itself.
Uncle Jack once told me to always remember that there are three sides to a line.
At the micro the plot is not visible, but it can begin to be pieced together as we move outward. Distorted and fragmented like a pattern dispersed across folded fabric. Reaching towards a familiar but not quite lining up. The slightest delay between waving arm and mirror rerereflection. Everyday psychedelia retooled, the scene is set.
My dreams are always tantric, noncommittal, wishy­washy.
To distinguish between the literal, formal process and metaphorical anchor, we return to the outset. If you could dump it, and examine the root system, you could begin to piece the figure together. A dead giveaway. A sci­fi totem, poorly erected for your­one­and­only.
In Iowan woods we shared a pomegranate and took tracings of each other, tracings for both of us to keep.
---
Zack Rafuls was born in Miami, FL, and lives in Nashville, TN. He received his BFA from Watkins College of Art, Design, & Film in Nashville in 2015, and in Fall 2014 studied at the School of the Art Institute of Chicago as participant in the AICAD Mobility Program. Currently, Rafuls is co-curator of mild climate, an artist-run space in Nashville's Packing Plant building. He has shown in both solo and group exhibitions in Nashville, and has exhibited nationally in New York, North Carolina, Pennsylvania, and Wisconsin. His work can be viewed at zackrafuls.com, and more info on mild climate can be found at mild-climate.net.
---
Image credit: Zack Rafuls, Tracings, 2016, Mixed media, Dimensions variable