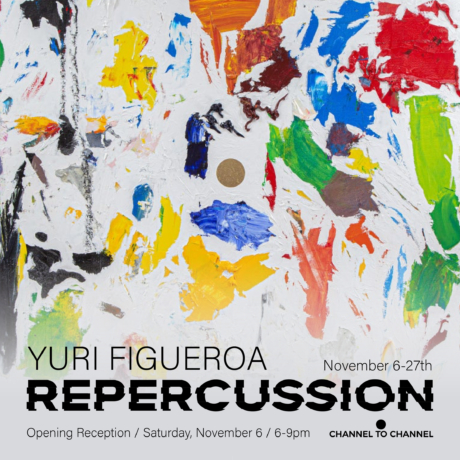 Exhibitions
YURI FIGUEROA: REPERCUSSION
Yuri Figueroa
Channel To Channel presents, Repercussion, a solo show featuring the work of Yuri Figueroa.
Yuri Figueroa was born in Colima, Mexico in 1989. As the descendant of Mexican, Arab Jew and Spanish immigrants, he has been concerned with the idea of identity since an early age.
In painting he has found the possibility of exploring endless outcomes when several concepts and shapes collide: the same way nature disrupts its own patterns when foreign elements are introduced in the order of a sequence. Is culture forever conditioned to the purity of its origins or is change and transformation inevitable and necessary? In Repercussion, Yuri explores the relation between artworks that inform each other but respond to different systems of categorizing movement and color, where conventional structure and intuitive placing of tones will determine the disruptive chaos of the surrounding artworks and vice versa.