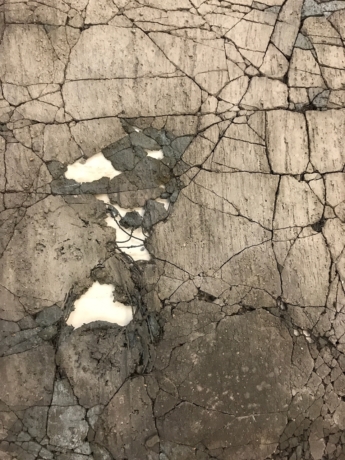 Exhibitions
YOU CAN'T MAKE LOVE TO CONCRETE
Marie Bannerot McInerney, Catalina Ouyang, Bret Schneider
You Can't Make Love to Concrete

Curated by Jennifer Baker
Featuring works by Marie Bannerot McInerney, Catalina Ouyang, and Bret Schneider
With a title inspired by Audre Lorde's striking poem Making Love to Concrete, this exhibition positions three artists' time-based works within an intimate space to explore the architecture of memory, oppression, and forgiveness. Catalina Ouyang's poetic meditations on structure are carved and constructed from stone and bone, but they also contain more fragile organic elements that will slowly decompose over the course of the exhibition. Bret Schneider's tactile sonic work refers to its own schematic imagery: the artist digitally runs saw waves through comb filters to create a pulsing aural illusion of synthetic verisimilitude. A site-responsive sculpture informs Marie Bannerot McInerney's performative drawing gesture, which will take place during the opening reception and act to preserve the evidence of time passing. As an extension of the exhibition, these three artists collaborated on a gif that will reside in the advertising space of www.temporaryartreview.com throughout the month of August.
---
Jennifer Baker is an artist and curator who creates experiences that are durational, unfold in space, and often describe metamorphosis. Baker's artwork has been exhibited across the country at venues including Fort Gondo (St. Louis), COOP Gallery (Nashville), Ralph Arnold Gallery (Chicago), the Clough-Hanson Gallery (Memphis), and Gallery UNO (Chicago), among others; as well as internationally at Wilcox and Sax Gallery (Banff, Alberta) and at Schiller's Garden House (Jena, Germany) as the recipient of a Cultural Exchange Grant from the U.S. Embassy in Berlin. Her curatorial projects have been realized at H&R Block Artspace at the Kansas City Art Institute, Pulitzer Arts Foundation, Granite City Art and Design District, Museum Blue, and Des Lee Gallery. Baker's writing has appeared in various publications including Journal of Artists Books and Probing the Skin: Cultural Representations of Our Contact Zone published by Cambridge Scholars. She has been the recipient of numerous awards and was a finalist for the Contemporary Art Museum St. Louis' Great Rivers Biennial in 2015. Baker received her BA in Fine Art and Psychology from Northeastern Illinois University in Chicago and her MFA in Visual Art from Washington University in St. Louis.
Marie Bannerot McInerney is an interdisciplinary studio artist, curator, and educator. Her work investigates conceptions of fragility, instability, and experiential knowledge. She has exhibited across the United States and abroad including shows at the Bellevue Arts Museum in Bellevue, WA, Mildred Lane Kemper Museum in Saint Louis, MO, Corcoran College in Washington, DC, The Schiller Garden House at Friedrich Schiller University in Jena, Germany, and the D-Lan Art Center in Guangzhou, China. McInerney co-authored an essay in the recently published book, Probing the Skin: Cultural Representations of our Contact Zone and was awarded a Cultural Exchange Grant from the U.S. Embassy in Berlin to travel and present work. Her formative years were spent in Houston, TX before earning her BFA at the Kansas City Art Institute and her MFA at Washington University in Saint Louis as a Danforth Scholar. She is one of five artists that make up the curatorial collaboration Plug Projects and serves as Assistant Professor in the Fiber Department at the Kansas City Art Institute.
Catalina Ouyang has had solo exhibitions at Trestle Projects (Brooklyn), the Millitzer Gallery (St. Louis) and fort gondo compound for the arts (St. Louis). Group exhibitions include the DEMO Project (Springfield, IL), Field Projects (NY), Parapet Four Seasons (Los Angeles), Kilroy Metal Ceiling (Brooklyn), the Luminary (St. Louis), Hardesty Arts Center (Tulsa, OK), Granite City Art and Design District (Granite City, IL), and Westminster Press (St. Louis). She has attended residencies at the NARS Foundation (Brooklyn), OBRAS (Evoramonte, Portugal), Atlantic Center for the Arts (New Smyrna Beach, FL) and Mary Sky (Hancock, VT). She is an MFA candidate in Sculpture at Yale University.
Bret Schneider is an independent essayist and sound artist. He is currently editor at Caesura, and was contributing editor for The Platypus Review. He has written about The Genre of Silence, Trotsky's Theory of Art and The Death of Maryanne Amacher. A book of selected writings is forthcoming.