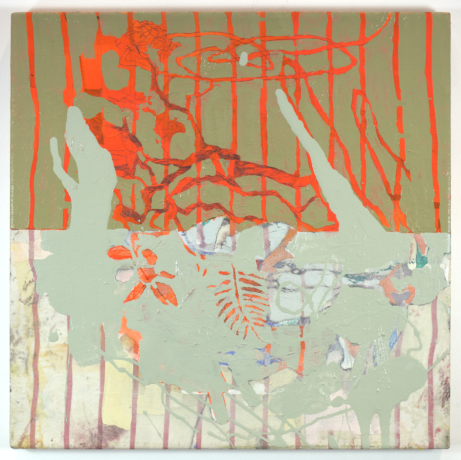 Exhibitions
GEORGANNA GREENE: WRIST CLOUD WARM
Georganna Greene
Red Arrow Gallery is pleased to announce, Wrist Cloud Warm, a solo exhibition with painter, Georganna Greene, opening on Friday, April 5th, 2019 at 6:00pm. A second artist reception will take place on Saturday, April 13th in conjunction with the EastSide Art Stumble.

Georganna Greene is a painter born and raised in Nashville, Tennessee. A mere 14 months after her nearly sold-out first exhibition with The Red Arrow Gallery, Greene brings her hometown an all-new body of work with Wrist Cloud Warm.

Continuing to straddle the line between a figurative and abstract artist, Georganna was recently awarded a scholarship for her series of plein air, landscape, and primarily nature-based paintings. The abstract/plein air connection is made clear in Wrist Cloud Warm. Sweeping brushstrokes and a bold and colorful palate move her layers of oil, acrylic, and spray-paint over the canvas, hinting of the outdoors and wildflowers or branches of trees while also being loose and open to interpretation.

"Moving from 'Adagio', my last solo show at Red Arrow Gallery (2018), this body of work continues to investigate physical sensation, movement, and tempo all connecting people to the wild. Drawing from my childhood as a ballet dancer and pianist, I recall a relationship between this familiar, ever-present tempo and the rhythmic process of making art. My paintings celebrate and link sustainable flourishing earth to a sustainable, flourishing self."
— an excerpt from the Wrist Cloud Warm artist statement, G. Greene, 2019
---
Georganna Greene (b. 1994, Nashville, TN) earned her BFA at the University of Tennessee, Knoxville where she had her first solo exhibition at Gallery 1010. Greene studied Art and Art History at Studio Art Centers International in Italy. She held her second solo show at O'More College of Design in 2015 and later curated Aggregate, a 12-person show at Ground Floor Gallery + Studios. Georganna has shown in numerous group exhibits over the last five years at the following locations: Julia Martin Gallery in Nashville, The Red Arrow Gallery, and Ewing Gallery of Art + Architecture at the University of Tennessee, Knoxville. Currently, she resides in Nashville working as an artist and art handler at Cheekwood Botanical Garden and Museum. This is her second solo show with The Red Arrow Gallery.