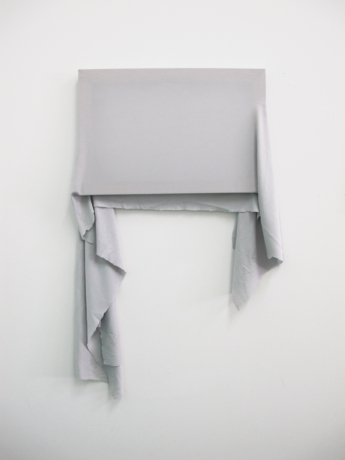 Exhibitions
WRAPPING: NEW WORK BY ALICE CLEMENTS
Alice Clements
COOP Gallery is pleased to present Wrapping, an exhibition by Los Angeles based artist Alice Clements. Clements employs materials outside of their intended use, finding humor in unlikely places as she engages in processes of experimentation. In painting and sculpture, she identifies the essential elements — such as support, fabric, and the relationship between the architecture of the space and a viewer's body — and elaborates on them.
For her show at COOP, Clements works with the elements of painting, while taking in account the gallery's space at the Arcade. She experiments with ways to combine these elements and extends the forms into sculptures. Clements will be installing the work in person prior to the opening and several works will be re-constructed using local materials while the artist is in town. Clements will be present at the opening.
Alice Clements lives and works in Los Angeles. She received her BA from Wesleyan University prior to completing her MFA from the Art Center College of Design. Her work has been shown at the Los Angeles Museum of Art, Elephant, Jancar Gallery, and PØST in Los Angeles.
More about COOP:
COOP is a curatorial collective made up of artists, curators, thinkers and professors who are committed to expanding Nashville's dialogue with contemporary art by presenting challenging new or under-represented artists/artworks to our community. COOP is committed to exhibiting art of diverse media and content, with a goal to provide an alternative venue for artists free from the constraints of the retail market. COOP seeks to initiate a discourse between Nashville and art scenes across the country by inviting artists to show, develop projects and interact with the Nashville community.
Website: www.coopgallery.org
For questions contact: Karen Seapker: karenseapker@gmail.com