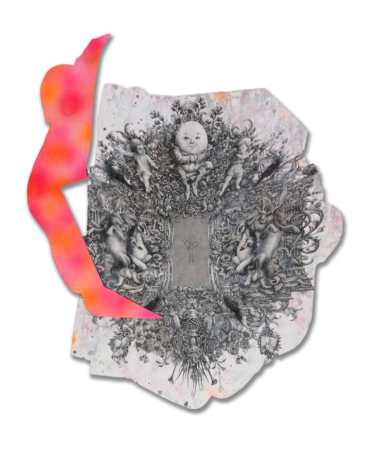 Exhibitions
PATRICIA BELLAN-GILLEN: WORDS & OTHER WEAPONS
Patricia Bellan-Gillen
Tinney Contemporary is proud to present Words and Other Weapons, a new body of works by artist Patricia Bellan-Gillen.
The surfaces of Bellan-Gillen's irregularly shaped panels bear a tangle of imagery culled from pop-culture and folklore, medieval woodblock prints and iconic fairytale illustrations. Bellan-Gillen's cast of characters–including Pinnocchio, Humpty Dumpty, and Howdy Doody–vies for attention amongst cherubs, anthropomorphized animals clutching televisions, and jack-o-lanterns on horseback, all nestled in interlacing florals.
The centers of the shaped pieces feature a small gap framed by ornately embellished tracery, giving the indication of a portal, closely resembling medieval and renaissance ceilings and doorways. The sculptural assemblages are augmented by works on paper featuring faux-naïf humanoid figures peeking between branches, whose leaves bear the same characters as the larger panels. The works become relics, monuments to a fading mythology, to the ghosts of possible futures.
In this way, there's a subterranean echo, akin to childhood memories drifting just beneath consciousness. The imagery and characters are often distorted slightly, and there's an eeriness like a disembodied voice humming a long-forgotten song from an old radio, one that suddenly brings all these memories bubbling to the surface.
Each assemblage features a density of visual information offset by calculated ruptures. A geometric form resembling a dazzle pattern or television static emanates from one of these fissures; its jagged edges mushroom outwards and seem to move by optical illusion, like an entropic flow whose expansion feels inevitable.
In this rich and frenetic context–where past bleeds into present and dreams melt into reality–it's the lightly etched words which catalyze response, cutting through the manifold tensions. The words "heroes," "trickle," "the spoils," "history," and "more" each vibrate with their own resonances. Words themselves become battlegrounds as we contest who has the right to control the narrative of history, who the heroes of that story are, where the stolen spoils reside. Simultaneously, words are the weapons with which these battles are fought; and while they're capable of doing violence, they're also capable of restoration.
Patricia Bellan-Gillen was born in Beaver Falls, PA and lives and works in rural Western Pennsylvania. She recently retired from Carnegie Mellon University after 29 years as a professor in the School of Art where she held the Dorothy L. Stubnitz Endowed Chair. The university honored her with the Ryan Award for Meritorious Teaching in 2000.

Bellan-Gillen's paintings, prints and drawings have been the focus of over 50 solo exhibitions in venues in Washington DC, Nashville, TN, Houston, TX, Las Cruces, NM, Albany, NY, Bloomington, IL Portland, OR, Grand Rapids, MI, Wellington, NZ and Wimbledon/London, UK. Her work has been included in numerous groups shows in museums, commercial galleries, university galleries, and alternative spaces. Venues have included: Hudson River Museum, Yonkers, NY, Chelsea Museum of Art, New York, NY, The Art Museum at FIU, Miami, FL, Frans Masreel Centrum, Belgium, University Art Museum, Laramie, WY, Tacoma Museum of Art, Tacoma, WA and the Aichi Prefectural Museum of Art, Nagoya, Japan.

Selected works from her recent solo exhibition at the McDonough Museum, Youngtown, OH are featured in this exhibition.