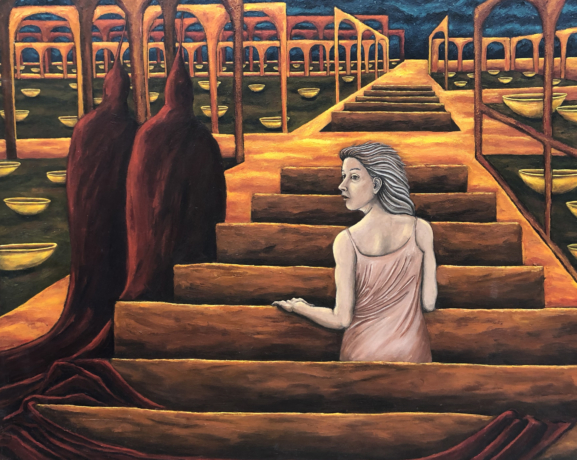 Exhibitions
RENEE LAROSE: WOMAN ON THE INNER JOURNEY
Renee LaRose
This exhibit celebrates the life and work of Renee LaRose, a longstanding member of our faculty until her untimely death in January 2021. Renee was a practicing artist and teacher for over 30 years. She facilitated creative workshops and artist in residence programs at Belmont University, Tennessee State University, as well as in upper and lower schools throughout Nashville, including Harpeth Hall School, Ensworth School, Williamson County High Schools, and Senior Citizen Centers in both Madison and Donelson.
Along with fostering community interaction, Renee exhibited in numerous solo and two-person exhibitions, as well as, many invitational shows and art competitions throughout the Southern region. She has been the recipient of several Scholarship Awards, a Certificate of Excellence in Painting, Purchase Award for Transfinacial Bank, and the "Hands and Heart Award" for Outstanding Volunteer Community Service for the Salvation Army. Her work has also been published in the book, "Women on The Inner Journey", by Noris Binet.
Renee LaRose received her BFA with honors in Fine Arts – Painting in 1983 at the Otis Art Institute of the Parsons School of Design in Los Angeles. In 1997, she received her MFA in Painting from Vermont College of Norwich University.
Please join us in celebrating her life and artistic practice during a Closing Reception on January 27th from 4:30 to 6:00 PM.