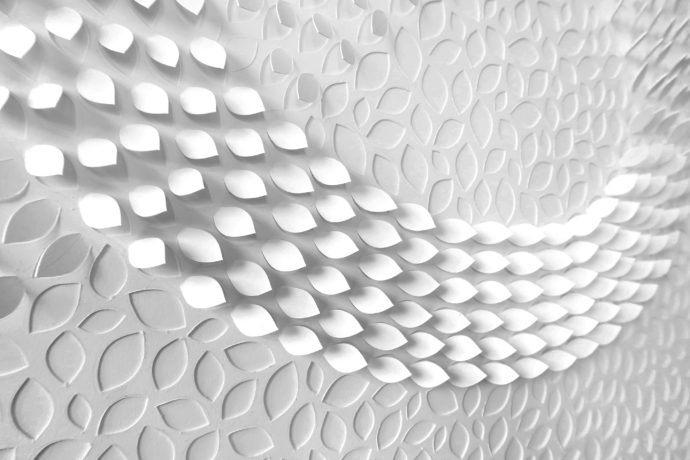 Exhibitions
WHITE NOISE
Jaq Belcher
Tinney Contemporary is pleased to present White Noise - New Work by Jaq Belcher. For her third solo show with the gallery, Belcher will return to Nashville to center her exhibition around a site/time specific floor drawing comprised of 144,00 hand cut paper seeds. These "seeds" have been collected from the works produced over Belcher's 16 years of practice and have been reused in multiple installations across the country over the past 8 years. Based on a 5 sided geometry, she will arrange the "seeds" in a configuration that will remain unknown until it happens in the space. Titled "Little Earthquakes" the installation will be ephemeral, as the tiny paper seeds will easily shift with the presence of people in the space. The process will take place from April 5th - 7th and will be recorded. The gallery will be closed to the public during the creation of the installation and will re-open for the reveal on April 7th.
In addition to the installation component, White Noise will feature wall pieces typical of Belcher's now internationally renowned style (works cut by hand from single sheets of white paper) but with new patterns and cuts that are the result of recent experimentation. According to Belcher, each of the works in White Noise has a distinct and unique theme unto itself. The technique is the same while the conceptual beginning of each work and the impulses that brought the work into form are diverse, and yet simultaneously have a deep resonance with each other. Each could be perceived as a pre linguistic existence or message to dissolve into or observe from a safe distance.
Belcher was born in Australia, and currently lives and works in New York City. Her work is held in private collections around the world and she actively exhibits in both gallery and museum shows.