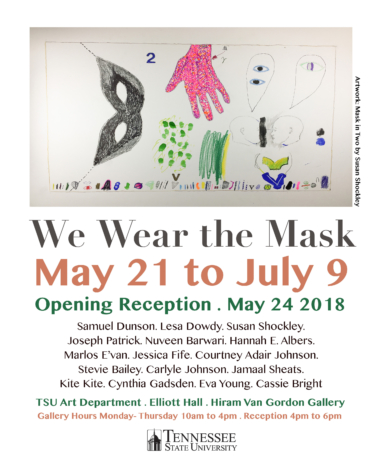 Exhibitions
​WE WEAR THE MASK
Samuel Dunson, Lesa Dowdy, Joseph Patrick, Kit Kite, Marlos E'van, Nuveen Barwari, Stevie Bailey, Jessica Fife, Susan Shockley, Cynthia Gadsden, Carlyle Johnson, Courtney Adair Johnson, Jamaal Sheats, Eva Young, Cassie Bright, Hannah E. Albers
The Hiram Van Gordon Gallery presents We Wear the Mask, a multi-medium show looking at what masks represent and how they effect/protect/portray us. How we use them (or they use us) to exist in this world we live in.

Using Paul Laurence Dunbar's poem We Wear the Mask as inspiration and a starting point for exploration and inquiry.

We wear the mask that grins and lies,

It hides our cheeks and shades our eyes,—

This debt we pay to human guile;

With torn and bleeding hearts we smile,

And mouth with myriad subtleties.


Why should the world be over-wise,

In counting all our tears and sighs?

Nay, let them only see us, while

We wear the mask.

Artists working in a multitude of different mediums and coming from varied backgrounds will come together in this show to highlight what the mask means to them.
---
Tennessee State University
Art Department / Hiram Van Gordon Gallery / Elliott Hall
Gallery Hours / Monday - Thursday 10-4pm / GPS 868M5589+Q7
Gallery Director / Courtney Adair Johnson / cjohn173@tnstate.edu / 615-963-5921