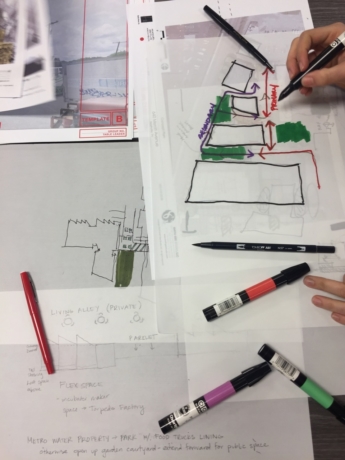 Exhibitions
WE ARE WEDGEWOOD-HOUSTON
CONVERGE is pleased to present We Are Wedgewood-Houston, an informative display exploring the process and output results from our recent Neighborhood Design Workshop, which focused on two major developments in Wedgewood-Houston: Eagle Rock Ventures' mixed-use, micro-housing project at the corner of Humphreys and Martin Streets, with a design team from Hastings Architecture; and The Natchez Group's mixed-use project at the property at Hagan Street and Merritt Avenue adjacent to the train tracks, with a design team including Smith Gee Studio, Manuel Zeitlin Architecture, and Hawkins Partners. CONVERGE facilitators and workshop attendees worked in small groups with these developers to brainstorm community-focused design ideas for their projects.
CONVERGE will host an opening reception for We Are Wedgewood-Houston on Saturday, March 2, from 6:00 to 9:00 pm, at CONVERGE, located on the second floor of the SNAP (South Nashville Action People) Building at 1224 Martin Street, and at CONVERGE: EXTENSION 1, our satellite space located nearby at 1260 Martin Street. The show will continue to be on view through Friday, March 29th by appointment. Please email Alysha.CONVERGE@gmail.com to schedule.
CONVERGE initiates and hosts design charettes as Neighborhood Design Workshops with the goal of bringing neighbors together with design professionals in order to foster positive dialogue regarding growth in the neighborhood. As the city grows, we need to ensure that our neighborhoods benefit through improved infrastructure, pedestrian friendly streetscapes, high quality architecture, useful alleys, new and improved public places, greenspaces, and shared common spaces. As facilitators, CONVERGE helps neighbors and stakeholders to voice their ideas and work with designers to ensure the neighborhood will be a safe and beautiful place to live and work that celebrates diversity in which we can all be proud.
Initiated by Eric Malo and Alysha Irisari Malo, CONVERGE is a curated community of creative thinkers who collaborate on interdisciplinary, project-based cultural programming that has a positive social impact. CONVERGE is a fiscally sponsored project of the Arts & Business Council of Greater Nashville, a nonprofit organization.
This Neighborhood Design Workshop was co-hosted by SNAP, a community alliance based in Wedgewood-Houston that empowers residents, enhances quality of life, and promotes the integrity of the neighborhood.