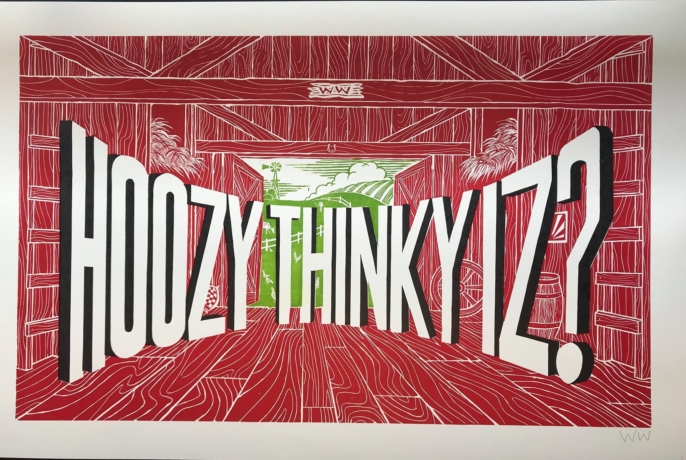 Exhibitions
WAYNE WHITE: HOOZYTHINKYIZ?
Wayne White
Known for his innovative set-design for the popular television show Pee-Wee's Playhouse, White's signature style and rhetoric span multiple genres, applications and industries. From art directing award-winning music videos to expressing amusing social commentary on upcycled landscape paintings, White's creative arsenal is vast and continues to grow with his highly-anticipated artist-in-residence at Haley Gallery and Hatch Show Print.

In preparing for the upcoming HOOZYTHINKYIZ? exhibition, White revisited his archive of sketches that he produced while working in Nashville during the 1980s on the television program Mrs. Cabobble's Caboose. The sketches include a cartoon depiction of George Jones and an abstract character portrait with Nashville written in bold type across the print. Most of the works on view feature a clear reference to both Tennessee and country music culture. White has been creating work at Hatch Show Print in stages over the course of six months resulting in several works, all of which are available for purchase.
---
Hatch Show Print's Haley Gallery displays restrikes of original posters from the collection, as well as contemporary interpretations of Hatch Show Print's classic wood blocks created by national and local artists. All of the restrikes of iconic posters, in addition to all of the new work inspired by the celebrated blocks, are available for purchase.