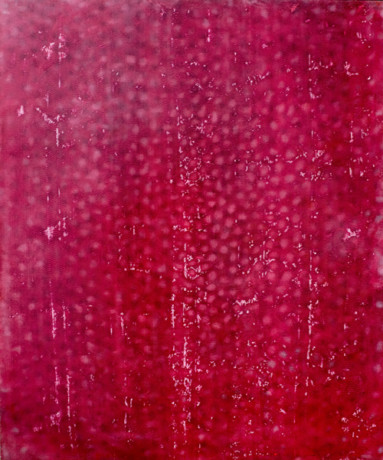 Exhibitions
WARREN GREENE & LISA WEISS
Warren Greene
Lisa Weiss
Warren Greene
From June 9th through July 28th, Warren Greene presents his 3rd solo exhibition at Cumberland Gallery, featuring a new series of acrylics on panel. Together forming an oasis of color, each painting is dominated by a bright tone and finished with the artist's signature slanted edges, pushing the piece into the physical space of the viewer. Within his art making, Greene employs alternative ways of applying acrylic to the wooden surface. One of his common techniques is to push paint through mesh, let it dry, sand, then applying the next layer. This multi-step process creates a vibrant, mesmerizing retinal effect of countless but minimal color juxtapositions. In some paintings, Greene focusses in on tactility by reducing the sanding of built-up dried paint and embracing the rough texture. Finally, another noticeable technique from the artists's repertoire is the use of compressed air to direct paint in different directions over the surface. The result are maze-like formations, locking in the eye and guiding it over the entire picture plane. With these non-traditional applications, and a minimal aesthetic, Greene is able to create work that captivates the senses. Conceptually, his paintings are informed by the intersection between the analog and digital observation of the world: the infinite possibilities of color, light and form versus a finite set of variables. The artist creates what he calls 'artificial surfaces' with a fixed set of tools but reaches an inexhaustible visual potential for the viewer to discover. Each action Greene adds to his art-process intensifies the complexity of this conversation: what do we see exactly and how do we prefer to see it? Greene's work is a condensation of these subconscious tensions which so immensely shape our observations of the world and ourselves.
Warren Greene studied at Middle Tennessee State University and Freed-Hardeman University, and earned a MFA from Memphis College of Art in 1996. During his career, he has held multiple academic positions throughout the state including Austin Peay State University and Lipscomb University. His work has been exhibited at the Frist Museum of Art in 2013. Collections include the Music City Center, Tennessee State Museum, First Bank, the Gordon Group and numerous private collections.
---
Lisa Weiss
For her first solo exhibition at Cumberland Gallery, Kentucky based artist Lisa Weiss presents a series of new works on paper. Characterized by pristine surfaces and a toned-down palette, Weiss' paintings are created with collaged Kozo and Mulberry papers, individually dyed in water based materials such as watercolor, ink and acrylic. For the ground layer, she uses a variety of idiosyncratic toned and structured paper such as Bhutanese, Lokta and Arches to shape a landscape of interesting textures. Rippling effects, imperfect edges and smooth planes give the painting an extra meaningful dimension. The mark making is a combination of controlled and uncontrolled gestures: precise line work, watercolor stains, or bolt formations, some of them even carrying an almost graphic quality. Within Weiss' process driving paintings, the notion of time – and its material impact - is central. The water based medium generates an ephemeral impression and a sense of prior movement in which colors bleed into one another, shapes are slowly overtaken, and the textured surface develops. Time works its way on the painting and turns it into a manifestation of an unstoppable, continuously forward moving and changing time-space. The artist states: "The works are about creating a universal shared space while also retaining an intimate meditative quality. Perhaps they are about balance, walking a middle path, engaged, yet unattached". Weiss reaches this balance by relying on instinct and chance as well as repetition and order: staying grounded by consciously making artistic choices while letting the painting develop independently, creating unexpected moments of surprise. In this sense, her art is a metaphysical contemplation, encouraging the viewer to observe closely and inspiring to make one's own marks within the uncontrollable setting of life. Weiss concludes: "I am interested in what the process has to teach about living wisely and fully. I think art is a necessity in society and pivotal for human progress."
Lisa Weiss received a BFA from Middle Tennessee State University and a MFA in Painting and Drawing from Louisiana State University. Her work has been included in several corporate collections as well as the collections of the Hunter Museum of Art in Chattanooga and Hot Springs National Park in Arkansas. Private collectors can be found throughout the United States, and in Canada, the United Kingdom, Germany, Australia, and the Netherlands.