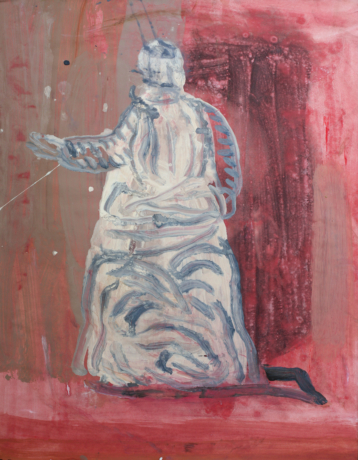 Exhibitions
VIVIENNE FLESHER + WARD SCHUMAKER
Vivienne Flesher, Ward Schumaker
Zeitgeist is pleased to present Parrots Are Not Expected to Keep Secrets by Vivienne Flesher and Trump Papers by Ward Schumaker. Join us for the opening reception on Saturday, January 5, 6-8pm. On view January 5 - February 23, 2019.
---
Parrots Are Not Expected to Keep Secrets: Vivienne Flesher
Vivienne Flesher is an artist/illustrator/photographer. Her work has been featured in The New York Times, Washington Post, LA Times, O Magazine, Criterion Collection, on a US postage stamp, and many book covers. She has exhibited her work at The Kennedy Center and Stir Gallery, Shanghai, China. She grew up in New York and lives in San Francisco with her husband, Ward Schumaker. This will be her first US gallery exhibit.
---
Trump Papers: Ward Schumaker
"Last summer I created a one-of-a-kind hand-painted book of Trump quotes, Hate Is What We Need. Chronicle Books made it available as a small format trade book. This summer I've painted 40 broadsides which I call Trump Papers, a collection of quotes by or about Trump and his administration. Each measures 37" x 25", and was created with acrylic and paste on Stonehenge paper." Ward Schumaker, 2018
In 1965, at the age of twenty-two, Mr. Schumaker quit painting after the governor of Nebraska and other officials threatened him with prosecution for entering what they deemed a 'pornographic' painting into a state-run exhibition (judges had awarded him first prize); he began painting again in 1997. In 2013, San Francisco Chronicle critic Kenneth Baker named Schumaker's exhibition as one of the ten best shows in the Bay Area of that year. This will be Schumaker's third solo exhibit at Zeitgeist.
---
image: Vivienne Flesher