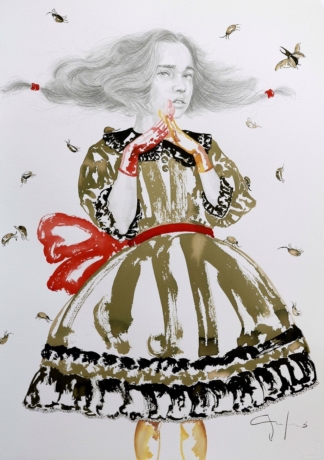 Exhibitions
VISUAL STORYTELLING: MODERN CULTURE
Carlos Gamez de Francisco
Danielle Duer
Philip Holsinger
Kate Harold
Jason Brueck
Gail Skudera
Dina Goldstein
Charles Keiger
Zoa Ace
Jorge Yances
Daryl Thetford
Every culture has a tradition of telling stories. Whether written, spoken, drawn, or painted, storytelling communicates identity. Visual Storytelling: Modern Culture celebrates how artists tell stories through various forms of visual media.
Featured artwork—including Carlos Gamez de Francisco's contemporary portraiture, Danielle Duer's floral narratives, Philip Holsinger's cultural photojournalism—explores stories of modern culture. Each piece or series is accompanied by the written story of their inspiration to enhance the power of the work and the viewer's overall experience.
Chauvet Arts is pleased to also feature artists Jorge Yances, Charles Keiger, Daryl Thetford, Ke Francis, Dina Goldstein, Gail Skudera, Zoa Ace, Jason Brueck, and Kate Harold.