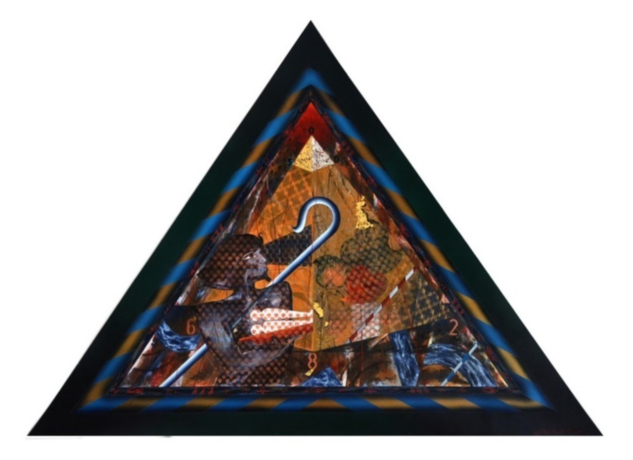 Exhibitions
VISIONARY APONTE: ART AND BLACK FREEDOM
Grettel Arrate, José Bedia, María Magdalena Campos-Pons, Juan Roberto Diago, Édouard Duval Carrié, Alexis Esquivel Bermudez, Jöelle Ferly, Teresita Fernández, Alberto Lescay, Tessa Mars, Emilio Mártinez, Emilio Adán Martínez, Nina Mercer, Clara Morera, Glexis Novoa, Vicki Pierre, Marielle Plaisir, Asser Saint-Val, Jean-Marcel St. Jacques, Renée Stout
Curated by Édouard Duval Carrié and Ada Ferrer

Visionary Aponte: Art and Black Freedom brings together twenty contemporary artists working across a range of media to interpret an extraordinary—and now lost—historical artifact: a so-called "Book of Paintings" created by José Antonio Aponte, a nineteenth-century Afro-Cuban revolutionary and artist. Authorities found the "Book of Paintings" in 1812 during the investigation into a major antislavery conspiracy in Havana. During the trial, Aponte was forced to describe his book in detail. Its pages portrayed lush landscapes and Biblical stories; Roman goddesses and Spanish kings; black men as warriors, emperors, and librarians; Rome and Ethiopia; Havana and the heavens. Shortly after testifying, Aponte was publicly executed, his head severed from his body, and placed on a pike inside a cage in a well-travelled crossroads in the city. Then, his "Book of Paintings" disappeared.
Using Aponte's trial testimony—which is all that is known to remain of the "Book of Paintings"—the artists included in Visionary Aponte have reimagined Aponte's book for the present day. They experiment with ways to mitigate the violence of the colonial archive and invite us to think about the role of art in envisioning and making social change.
Artists include: Grettel Arrate (Santiago, Cuba), José Bedia (Miami), María Magdalena Campos-Pons (Nashville), Juan Roberto Diago (Havana, Cuba), Édouard Duval Carrié (Miami), Alexis Esquivel Bermudez (Cuba/Spain), Jöelle Ferly (Guadalupe), Teresita Fernández (New York), Alberto Lescay (Santiago), Tessa Mars (Port-au-Prince, Haiti), Emilio Mártinez (Miami), Emilio Adán Martínez (Miami), Nina Mercer (New York), Clara Morera (North Carolina), Glexis Novoa (Miami), Vicki Pierre (Miami), Marielle Plaisir (Miami), Asser Saint-Val (Miami), Jean-Marcel St. Jacques (New Orleans) and Renée Stout (Washington, D.C.).
The exhibition incorporates scholarly research on Aponte and his world by NYU Julius Silver Professor of History and Latin American and Caribbean History Ada Ferrer, author of the prize-winning book Freedom's Mirror: Cuba and Haiti in the Age of Revolution, and art historian Linda Rodríguez, curator of the digital humanities website Digital Aponte. Visionary Aponte: Art and Black Freedom, which originally opened in Miami's Little Haiti Cultural Center during Art Basel 2017, has traveled to King Juan Carlos I of Spain Center at New York University, Power Plant Gallery at Duke University, Centro de Desarrollo de las Artes Visuales in Havana, and Galería Arte Soy in Santiago, Cuba. Programming for the Fine Arts Gallery was made possible by the Vanderbilt University Department of History, Center for Latin American Studies, Jean & Alexander Heard Libraries and Robert Penn Warren Center for the Humanities.
A program of lectures and events across Vanderbilt's campus accompanies the exhibition.
Please find a schedule as well as images and press materials here, or for more information email emily.a.weiner@vanderbilt.edu.