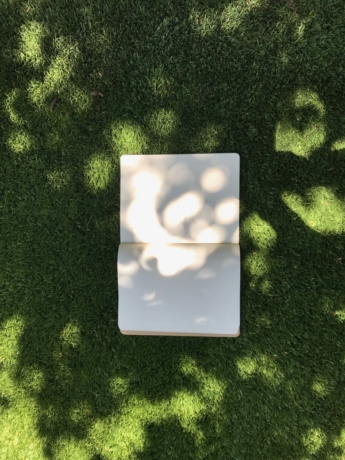 Exhibitions
VESTIGE: GUEST CURATED BY SAM EASLEY AND JASON OWEN
Caroline Allison
Coriana Close
Kevin Cooley
John Duckworth
William Eggleston
Catherine Erb
Huger Foote
Kristi Hargrove
Shannon Randol
Kathleen Robbins
Jack Spencer
Jeane Umbreit
William Wegman
David Lusk Gallery Nashville kicks off the summer with Vestige, a guest-curated photography exhibition. Sam Easley and Jason Owen have selected works showcasing Caroline Alison, Kevin Cooley and Kathleen Robbins, to name a few. Their extensive art collection includes work by Catherine Erb, Kathleen Holder and Jack Spencer.
Vestige showcases photographs that successfully portray evidence of human impact while leaving out specific individuals. Overturned earth at a gravesite, a grass fire, four red cushions and a collection of worn newspapers remind us that people passed through these spaces, leaving traces or altering them so much that they disappear.
Maintaining his studio practice between Los Angeles, California and Brooklyn, New York, artist Kevin Cooley focuses on sunrises, sunsets, moonrises and moonsets in his A Thousand Miles an Hour series. "Each image features a motionless, tack-sharp sun or moon near the center of the frame while the remaining objects in the landscape—the skies, and even the earth itself—appear to be in motion. These unconventional views of our celestial neighbors expose a gap between our perception and our understanding of universal forces while visualizing the systems we create to describe the world around us."
Based in Nashville, Easley is the President and founder of Crown Merchandise, a full-service merchandising company representing the brightest music brands on tour, at retail, through strategic licensing partnerships and online. Owen is known for managing musicians such as Little Big Town, Faith Hill and Kacey Musgraves, in addition to Blackberry Farm and the estate of Johnny Cash as the President of Soundbox Entertainment. Owen's most recent success has come from managing female artists in country music: Kacey Musgraves sold out Royal Albert Hall in London, Little Big Town's "Girl Crush" is a triple Grammy nominee and rising country star Kelsea Ballerini recently signed with Sandbox Entertainment.