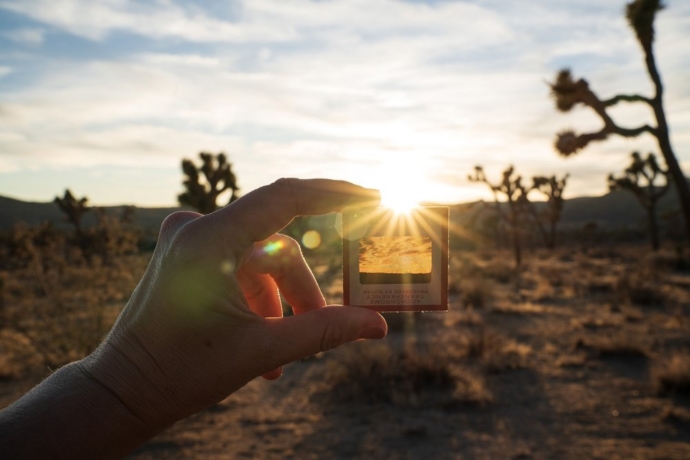 Exhibitions
VESNA PAVLOVIĆ: PERFECT MEMORY
Vesna Pavlović'
Vesna Pavlović's 4th solo show at Zeitgeist, Perfect Memory, showcases a body of photographs which represent a return to still image and documentary themes which gained her attention as a young artist. While Pavlović's work after her time as a student at Columbia University and her arrival to Nashville in 2009 emphasized image reproduction, projection, and installation, Perfect Memory echoes her visual exploration of aesthetic, social and historical phenomena found in her legacy series, such as the iconic "Hotels." Perfect Memory integrates three bodies of photographs shot recently in former Yugoslavia, Cuba, and the US. These works—"Sites of Memory," Jardines de Hershey," and "Searching for the Perfect Sunset", are connected by questions of memory and the politics of place, with a focus on photographic representation of political and cultural histories of Cold War era.
"Sites of Memory" (2019), produced in Belgrade during Pavlović's Fulbright Scholar Fellowship are taken in a defunct Avala Film Studios in Belgrade. Using theatrically staged cinematic props, Pavlović photographed found objects such as a collapsed Yugoslav flag, classical columns, and other elements which once adorned the state-run television and film production programs. The stagecraft of these objects echoes the golden age of Yugoslav socialism. Photographs also include the iconic architecture and interior design of the Sava Center Congress Hall in Belgrade. 14th Congress of the League of Communists of Yugoslavia, held on this site in 1990, marked the beginning of the dissolution of Yugoslavia. In her essay for "Vesna Pavlović: Stagecraft", Transnational Time Unsettling Borders and Media in Vesna Pavlović's Oeuvre, published by Vanderbilt University Press in 2021, Jordan Amirkhani writes: "By complicating our notion of the "original" art object and embracing both handmade and digital strategies, Sites of Memory marks the artist within the accumulations of the archive in an overt and critical way. Thus, it is the archive itself that forms the crux of Pavlović's focus—an institutional apparatus that shapes, creates, and embroiders upon the monumentalization and memorialization of a particular past."
The most recent photographs in the show were taken during a research trip to Cuba at the start of 2023. Some of the photographs trace the trajectory of the Yugoslav prefabricated construction systems through the network of the Non-Aligned Movement, which found wide adoption in Cuba in the 1970s. Another group of photographs reflects an abandoned amusement park in Jibacoa, once a striving property of the American chocolate magnate Milton Hershey's sugar mill factory. Today, it is a reminder of both the economic struggle and promise which never materialized in Cuba.
The third series, "Searching for a perfect sunset" features an experimental work produced in Joshua Tree, CA in 2022, during a recent artist in residency at BoxoPROJECTS art program. A grid of 16 color photographs presents a performative quest to frame a perfect sunset in the Joshua Tree Park, using a box of vintage 35mm slides sourced off eBay.
Exhibition program:
Perfect Memory, with Sohee Park and Dan Levin
Conversation about Vesna Pavlović's work in the context of the 2022/2023 Robert Penn Warren Center for the Humanities "Mind, Image, Body" seminar group, Vanderbilt University
Saturday, March 25, 2023
1:00-3:00 PM
Please join the conversation between the artist and Prof. Sohee Park (Psychology, Vanderbilt) and Dan Levin (Psychology and Human Development, Peabody College). Park and Pavlović co-direct "Image, Mind, Body" seminar that examines the intersection of scientific processes of remembering and the role that visual representation plays in that process.
Vesna Pavlović: Stagecraft
Book signing and conversation with John J. Curley (Wake Forest University)
Thursday March 30, 2023
5:30-7:00
Vesna Pavlović: Stagecraft features four extensive bodies of the photographer's work, spanning from the early 2000s to today—photographs of the Yugoslav socialist modernist hotel spaces from her internationally recognized series "Hotels"; photographs of the ceremonial space of the Yugoslav Presidential Palace in Belgrade from the series "Collection/Kolekcija" and the recent "Fabrics of Socialism" and "Sites of Memory" series exploring the archives of the Museum of Yugoslav History. The book includes critical essays that contextualize and expound on Pavlović's unique treatment of the photographic medium, in which a photographic moment is expanded to include the conditions of image making, production, documentation, and representation.
---
Vesna Pavlović is a Professor of Art at Vanderbilt University in Nashville. In the 1990s, in Belgrade, Pavlović worked closely with feminist pacifist group Women in Black. She provided artistic witness to the disintegration of her native Yugoslavia through documentary work. Recipient of 2021 Current Art Fund Grant, 2020 Smithsonian Artist Research Fellowship, Fulbright Scholar Award in 2018, George A. and Eliza Gardner Howard Foundation grant in 2017, and Art Matters Foundation grant in 2012. Pavlović exhibited widely, including solo shows at Phillips Collection in Washington DC, Frist Art Museum in Nashville, Museum of History of Yugoslavia in Belgrade, and Crocker Art Museum in Sacramento. She participated in a number of group shows, including the Untitled, 12th Istanbul Biennial, 2011, Turkey; MAC –Metropolitan Arts Center, Belfast, Northern Ireland; Württembergischen Kunstverein, Düsseldorf, Germany; KUMU Art Museum, Tallinn, Estonia; Zachęta, National Gallery of Art, Warsaw, Poland; New Art Gallery Walsall, UK; Bucharest Biennale 5, Romania; Museum of Contemporary Photography, Chicago, USA; NGBK, Berlin, Germany; and Photographers' Gallery, London, UK. Publications include Vesna Pavlović, Stagecraft (Vanderbilt University Press, 2021) and Vesna Pavlović's Lost Art: Photography, Display, and the Archive (Hanes Art Gallery, Wake Forest University, 2018).