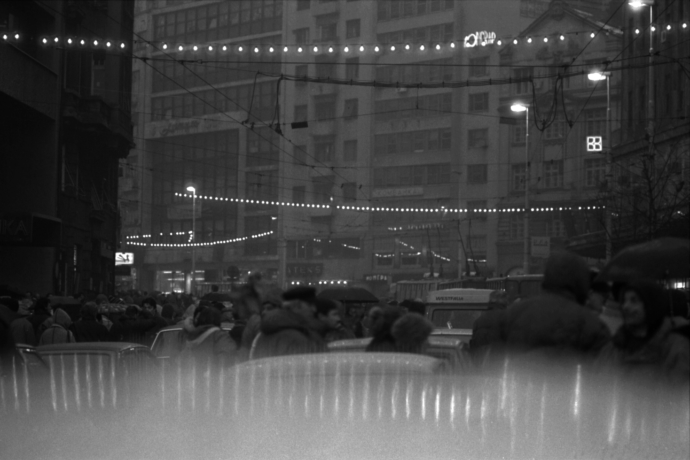 Exhibitions
​VESNA PAVLOVIĆ: MIXTAPE
Vesna Pavlović
"Although itself always being self-contained, and a certain object-per-se - a digital playlist of today is NOT a mixtape - there is nothing objective involved in making, or listening to one. A mixtape is not a compilation, nor a "best of" kind of release. It is not based on any statistics, nor on any measurable something, like what was selling the best, what was most played in the radio, or was on B-sides of the more famous singles. A proper mixtape is not even a release, as it is never "official". Mixtape is always made by someone - what is today perhaps seen as an act of curating - and its purposes and authors may vary: it could be you assembling your favorite songs in the proper order for a long car ride (what people used to do before they started yelling their wishes towards Siri or Google, while they happily serve back the wrong stuff or explain that something is not available half of the time; unless the tape was too old or the machine was in a very bad shape, mixtape simply worked its way with reliable and guaranteed results."
- Jerić, Vladimir, Vesna Pavlović's MixTape, exhibition essay, 2018

---
Please join us for the opening of MixTape, Vesna Pavlović's third solo show at Zeitgeist. MixTape explores Pavlović's personal documentary photography archives taken in Serbia during the 1990s, and offers a comprehensive look into an 'aesthetic of resistance' at the time of the dissolution of Yugoslavia. Her images capture the 1996 student protests, her early engagement with the art collective Škart and their radio and street performances, the work of peace pacifist group Women in Black, and various other non-for profit organizations such as Radio B 92 and Center for Cultural Decontamination. The images convey an intimate view into a public sphere seen through the lens of a generation which defined a 'geography of counter-public' in Serbia and Montenegro during a decade of hardship. During a period of crisis, wars, hyper-inflation, and mass emigration, creating photographs was an act of citizenship and resistance. Different genres of documentary photography on display present a recollection of 'networked' memories of individual and collective moments of protest, in which music plays an integral part. As one of the early photographers of the music magazine Ritam in Belgrade, Pavlović created an archive of concert photographs which could be seen as a counter archive to her more institutional documentary work. For her show, the artist selected a number of songs by bands of the former Yugoslavia, which were transcribed phonetically and offered to a group of Nashville musicians to create a special mixtape. MixTape tape will release on Saturday, October 13 with a music performance in the gallery.

MixTape is a metaphor for memories of that time, rewinding, and fast-forwarding to the present. Images and objects in the exhibition point to the inevitable obsolescence of media, history and politics.

In her essay for the exhibition publication, Prof. Milena Dragičević-Šešić writes: "Inter-disciplinary work of Vesna Pavlović contains multiple gazes: photographs and photographic installations are sometimes just documents, sometimes testimonies but in most cases, it's her own artistic work that, through the eye of a camera, opens new perspectives to the understanding of societal challenges while offering a significant contribution to the aesthetics of civil society movements."
---
Vesna Pavlović (Serbia/US) obtained her MFA degree in Visual Arts from Columbia University in 2007. She is an Associate Professor of Art at Vanderbilt University. Pavlović has exhibited widely, including solo shows at the Phillips Collection in Washington DC, the Frist Center for the Visual Arts in Nashville, Museum of History of Yugoslavia in Belgrade, Hanes Art Gallery at Wake Forest University, Illges Gallery at Columbus State University, and the Crocker Art Museum in Sacramento. She participated in a number of group shows, including the Untitled, 12th Istanbul Biennial, 2011, Württembergischen Kunstverein, Düsseldorf, Germany, KUMU Art Museum in Tallinn, Estonia, Zachęta, The National Gallery of Art in Warsaw, Poland, City Art Gallery, in Ljubljana, Slovenia, the New Art Gallery Walsall, Walsall, UK, the Bucharest Biennale 5, in Bucharest, Romania, Museum of Contemporary Photography in Chicago, Le Quartier Center for Contemporary Art in Quimper, France, NGBK in Berlin, Germany, Photographers' Gallery in London, Kettle's Yard in Cambridge, UK, and FRAC Center for Contemporary Art in Dunkuerqe, France.

Vesna Pavlović is the recipient of the Fulbright Scholar Award in 2018, The Tennessee Southern Arts Fellowship in 2018, The George A. and Eliza Gardner Howard Foundation in 2017, the City of Copenhagen Artist-in-Residence grant in 2011, and Contemporary Foundation for the Arts Emergency Grants in 2011 and 2014. She has received 2012 Art Matters Foundation grant. Her work is included in major private and public art collections, Phillips Collection and the Hirshhorn Museum and Sculpture Garden, in Washington DC, USA, and Museum of Contemporary Art, Belgrade, Serbia, among others. Recent publication includes "Vesna Pavlović's Lost Art: Archive, Photography, and Display", edited by Morna O'Neill and published by Hanes Art Gallery at Wake Forest University in North Carolina.
---
Music on MixTape by Boye, Darkwood Dub, Ekatarina Velika, Haustor, Jarboli, Laibach, Neočekivana sila koja se iznenada pojavljuje i rešava stvar, Obojeni Program, Oružjem protivu otmičara, Partibrejkers, Plejboj, and Vlada Divljan (Ex-Yu)
Performed in Serbo-Croatian and English by Country Music, Dubmsigns, Lambda Celsius, The Mute Group, Lylas, Patrick Damphier, The Robe, Rodrigo Avendaño, Sehr Modern, The Altered Statesman, The Styrofoam Winos, Sugar Sk*_*lls (Nashville)

MixTape is produced by Loney John Hutchins, Music director, Cleftmusic.

Essays by Milena Dragičević-Šeśić, prof. UNESCO Chair for Cultural Policy and Management, University of Arts Belgrade and Vldimir Jerić, Media theorist, Belgrade

Graphic Design: Slavimir Stojanović Futro

Exhibition is supported by the Vanderbilt University Chancellor Fellow Program. Special thanks to Dina Divljan, Maja Maričić, Miško Plavi, Milan Mladenović Foundation Belgrade, Branislav Babić Kebra, Biljana Babić, Zoran Kostić Cane, Darko Rundek, Boris Mladenović, Žolt Kovač, Daniel Kovač, Miki Ristić, Roman Goršek, Saša Ajdanov, Sydney Silberman and Geoffrey Pettet, Jerry Phillips and Mark Hosford at Vanderbilt Department of Art, Loney Hutchins and all Nashville musicians who delved into this project with full heart. Thank you.