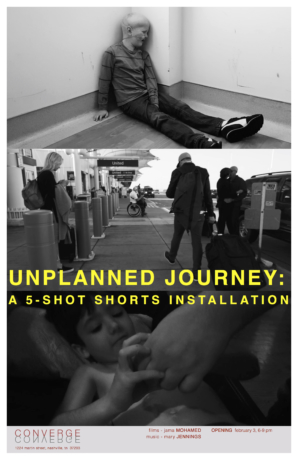 Exhibitions
UNPLANNED JOURNEY: A 5-SHOT SHORTS INSTALLATION
Jama Mohamed
Mary Jennings
CONVERGE is pleased to present Unplanned Journey: A 5-Shot Shorts Installation, a collaborative film and music installation by Jama Mohamed, a local filmmaker exploring the topic of disability, and Mary Jennings, a local singer, songwriter, and musician. The event reception will be held on February 3rd, from 6:00 to 9:00 pm, at CONVERGE, 1224 Martin Street, in conjunction with Arts & Music at Wedgewood-Houston and is free and open to the public.
For his first series of "Nashville 5-Shot Shorts" shown at CONVERGE in January, Jama Mohamed collaborated with the Family Voices of Tennessee on a unique project empowering families and individuals affected by lifelong special healthcare needs, chronic illness and/or disabilities to tell their stories through video. The project was inspired by Mohamed's own experiences as parent to a child with disabilities. Mohamed visited participants in their homes and taught them the basics of creating video to assist them in depicting their own experiences with disability—simply using five short video shots. "Nashville 5-Shot Shorts" was a recipient of Thrive funding from the Metro Nashville Arts Commission last spring.
For Unplanned Journey: A 5-Shot Shorts Installation, CONVERGE brought Mohamed and Jennings together to collaborate. Mohamed continued his work creating shorts with families from the Family Voices of Tennessee and the Family Advisory Council, and will show the black- and-white films simultaneously in a unified installation using tube televisions. The obsolete televisions underscore the marginalization that those with disabilities and special healthcare needs face. Jennings created music inspired by Mohamed's work to enhance the installation with piano and ambient sound.
Mary Jennings, a Casio-sponsored artist, was featured in an online advertising campaign for the company's new line of keyboards in 2011. Her song "The Darkness" was placed in the Lionsgate motion picture "Devil Seed" and in 2014, her song "Move" was featured on Lifetime's TV show "Dance Moms." Mary has extensively toured, opening for artists such as Jeffrey Gaines, Mike Doughty, Teddy Geiger, Ryan Cabrera, and Rachel Yamagata, and has appeared at several major festivals including CMJ and South by Southwest.
---
CONVERGE is a curated community of creative thinkers who collaborate on interdisciplinary projects that have a positive social impact, initiated by the husband and wife team, architectural designer Eric Malo and artist and poet Alysha Irisari Malo. The group conceives and realizes project-based art and design, lifestyle, cultural, and community programming. Alysha Irisari Malo is the Project Manager of this CONVERGE project.