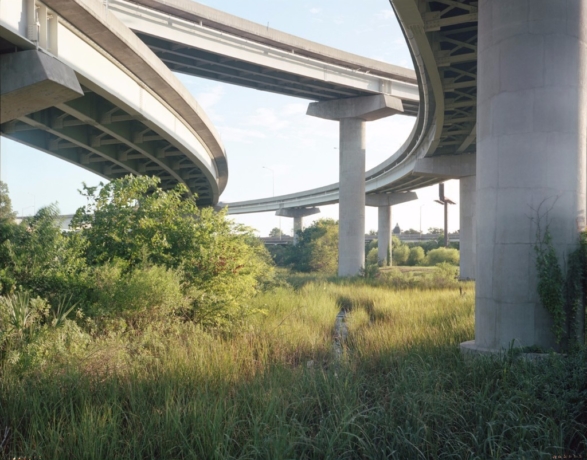 Exhibitions
CAROLINE ALLISON & PATRICK DEGUIRA: UNDERGROUND AGAIN
Caroline Allison, Patrick DeGuira
Zeitgeist Gallery is pleased to announce a new exhibition from Nashville-based artists Caroline Allison and Patrick DeGuira. Underground Again meditates on ways history manifests itself in the present. Social, political, ecological, and geological imprints of the past leave their traces on today.
Through a shared engagement with source materials derived from the landscape, the exhibition emerges from and overlaps with the remains of social-philosophical models, earth-based systems, perceptions of time, and abandoned spaces of invention.
Looking to these ideas, the interconnected works on display materialize as double entendres pertinent to our current, turbulent times.
Underground Again is Caroline Allison and Patrick DeGuira's first joint exhibition at Zeitgeist.
In 2015, the artists collaborated on a writing publication which raised questions regarding the boundaries of regionalism and impressions of the natural world.
Caroline Allison was born in Atlanta, GA and now lives and works in Nashville, TN. She received her BA from the University of the South, Sewanee, TN, and her MFA from the School of the Art Institute of Chicago. She has exhibited extensively in the USA in both solo and group shows.
Conceptual in nature, Patrick DeGuira's work is intended to be meditative and carried out with minimal means. He works in a broad range of materials and forms, including installation and sculpture, photography, research and observation, video, writing, sound-based recordings and performance. His work evolves from ideas such as holism, temporality, perception and phenomena, nature, and fragility. Connected to his studio process, he maintains a practice that encompasses curating, teaching, collaborative based projects, and public speaking engagements. Patrick DeGuira received his BFA from Memphis College of Art, attended the New York Studio Residency Program, and holds an MFA from Vermont College of Fine Arts. He has exhibited his work nationally and internationally.
IMAGE: Caroline Allison, Newmarket Creek, South Carolina, 2016, Archival pigment print, 26" x 46"