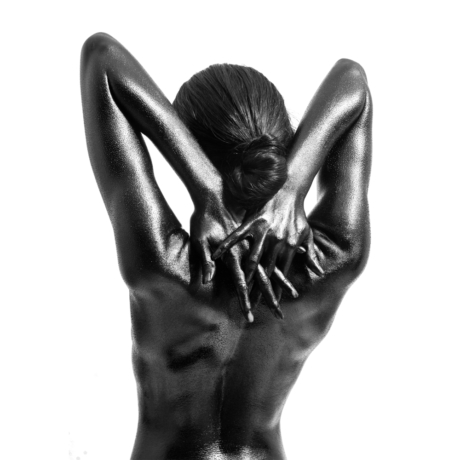 Exhibitions
THE SOCIALIZED EXPERIMENT: PHASE II
Joseph E. Patrick II
The subjects in Joseph Patrick's photographic exhibition The Socialized Experiment Phase II are covered in a black grease paint – a mixture of charcoal and petroleum jelly similar to the face paint used in blackface minstrel shows of the mid-19th century. Patrick instructed the models to move in a slow, controlled manner, and their dance became both creator and creation, as if they were the ink rubbed on the paper. Their bodies transform to look like ink blot tests used to interpret personality traits and psychological functioning.
Are there bias, insecurities, hopes or fears drawn from viewing the forms in all their statuesque blackness?
In this series, Patrick explores elements tied to mental health as they relate to black people. He uses the words Pain, Resentment, Numbness, Rebirth as guide post for his creation and our viewing of the work. By providing the tools to empower, seek help, become vulnerable and make stark statements, Patrick asks viewers to reframe race and identity, imaging ways to rebuild these concepts.
Joseph Patrick graduated from Tennessee State University with an Electrical Engineering degree. After graduation, he began delving more deeply into photography, looking at the mechanics of the process and experimenting in creative ways to represent the human form. To view more of his work visit: www.thephotojojo.com
---
HOURS M-TH 10-4PM