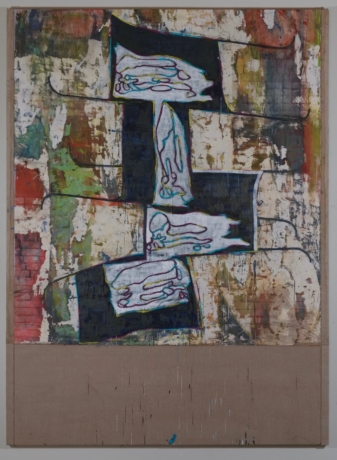 Exhibitions
THE PROFESSORS
Marcia Goldenstein
Cheryl Goldsleger
Leonard Koscianski
David Kroll
David Lefkowitz
Terry Thacker
For the last feature show of the year, Cumberland Gallery invited six artists who have been important educators in the arts while maintaining successful and independent careers as practicing artists. Cheryl Goldsleger, Marcia Goldenstein, Leonard Koscianski, David Kroll, David Lefkowitz and Terry Thacker will each present new work or pieces from signature series. The majority of participating artists have direct ties to art education in the South in the capacity of active or former faculty members.
---
Marcia Goldenstein taught painting and drawing at the University of Tennessee between 1976 and 2013 and recently earned the position of Professor Emeritus. Throughout her career she received numerous research, travel and exhibition grants and awards and was the recipient of the Chancellor's Excellence in Advising Award in 2006. Next to her extensive teaching experience, Goldenstein exhibited throughout the Southeast and her home state Nebraska. Her work is included in private and corporate collections all over the country. For The Professors, Goldenstein presents new work from her ongoing Landscape series in which abstraction and representation meet. In these paintings, a new, believable setting is created as dramatic evening skies drift over aerial views of the land.
Georgia based artist and Professor Cheryl Goldsleger is affiliated with Augusta University since 2015 where she has been appointed Morris Eminent Scholar in Art. In 2006, while teaching at Georgia State University, she was granted the Outstanding Faculty Achievement Award. Celebrated for her excellence in educational leadership, Goldsleger is also the recipient of two National Endowments for the Arts Artist Fellowships. For this show, she presents recent graphite drawings on Dura-Lar in which the spatial structure of our society is exposed in all its depth and complexity. Layers and layers of mark making and mark-removal accumulate meaning and materialize the image as a bridge between cultures and time periods, the imagined and the real.
Leonard Koscianski has held multiple academic positions in Maryland and was an Assistant Professor at UT from 1980 to 1984. A popular professor and speaker, Koscianski has been invited throughout the country for lectures, speeches and committee positions and received numerous awards including the National Endowment for the Arts Artist Fellowship and the Rockefeller Foundation's Bellagio Fellowship. Public collections include The Metropolitan Museum of Art, The Philadelphia Museum of Art, and The Art Institute of Chicago. On display at Cumberland Gallery will be an array of oil paintings on canvas and small egg tempera work on panel. In these signature pieces, animals inhabit a nocturnal landscape in which the clash between the hunter and the hunted dominates. The intensity and ferocity of the conflict challenges the viewer's moral experience in the face of these opposing forces.
Born and raised in Nashville, David Lefkowitz is Chair of Art and Art History at Carleton College in Northfield (MI) where he has been teaching drawing and painting since 1997. He is represented in several collections, including the Walker Art Center in Minneapolis, the Langen Foundation in Neuss, (Germany) and the Miami Art Museum in Miami (FL). Lefkowitz presents work from three signature series - Tangle, Cardboard (Corrugated Drawings) and Pictures of Common Detritus - all exploring the topic of sustainability and the blurred boundary between our human-built environment and the natural world. The artist challenges conventional painting genres and surfaces by drawing on flattened cardboard or de-romanticizing a botanical still life.
Local artist, Professor and former Chair of the Fine Arts Department, Terry Thacker has been affiliated with Watkins College of Art and Design since 2005. Moreover, he has held positions at several local schools and art institutions including Vanderbilt University, Middle Tennessee State University, Cheekwood Estate & Gardens, Lipscomb University and the Frist Center for the Visual Arts. An educator for over thirty years, Thacker is also an active lecturer, reviewer and curator. For this show, he exhibits work from a new series titled Weeping Women and pages from his book Little Tiger. Thacker investigates and theorizes the condition of painting as a hysterical means, pointing in- and outwards at the same time. This dual condition emerges from the concept of allegory – 'to speak other'. In his work, he introduces characters who can be interpreted in such an allegorical manner, revealing additional meaning and challenging conventions.
David Kroll taught materials and methods courses at the School of the Art Institute of Chicago for almost a decade, before moving to the Pacific Northwest in 2002. During that time, he found his mature style as a painter and received the Arts Midwest/NEA Regional Visual Artist Fellowship Award. In The Professors, Kroll present new work in which carefully crafted compositions of birds, eggs, fruit, flowers, and nests give us a glimpse of the Arcadian dream: pure and untouched nature. However, as romantic and soothing the scenery is, it is equally disrupting. The viewer experiences a sense of irreversible loss when realizing the unscathed paradise cannot be restored. In his art, Kroll achieves a poetic and strained balance between realism and surrealism.