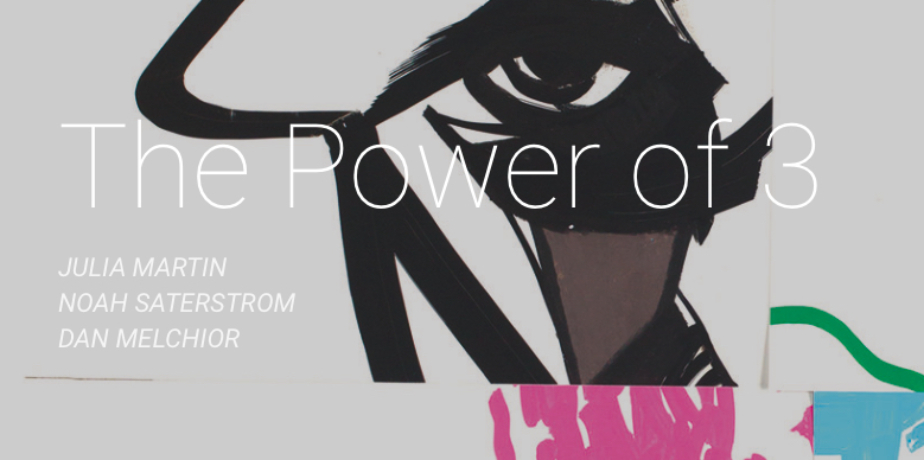 Exhibitions
​THE POWER OF 3
Julia Martin, Noah Saterstrom, Dan Melchior
Julia Martin: A series of experimental works

For the last few years I've been exploring new mediums, while taking time to play with familiar ones and enjoying the overlap - deconstructing compositions and working to factor in linear to three dimensional thinking. While these works remain two dimensional, they feel like a critical stepping stone. Collage (I use the term collage loosely, playing more at assemblages of drawings created during playful collaborations with friends) has been a cathartic and useful tool in luring my mind away from traditional studio practices.
---
Noah Saterstrom: Spector Projector

Noah Saterstrom is an important, prolific member of our local arts community. Since his solo - Road to Shubuta - with us last year, Noah has been hard working on raising a family and teaching a truly enlightening Art Appreciation course at Belmont University that I wish we all could attend. A similar opportunity presents itself as Noah takes on the roll of JMG's guest curator beginning Feberuary 1, 2019 through the end of May. I am eager to see what Noah brings to the scene and hope you'll stay tuned.

Statement:
This series of oil paintings features a group of ghosts observing and encircling a single other ghost. The subject of their attention is undergoing a transformation, perhaps a birth or a death. The arrangement of figures is borrowed from "The Anatomy Lesson of Dr. Nicholaes Tulp" by Rembrandt. Seen together, the paintings take on an animated quality.
---
Dan Melchior

A "Known Unknown" Dan Melchior has been a beloved musician to many over the years. We are honored to present the rare opportunity for Nashville to enjoy his visual work. Dan will also grace us with a special live performance during the opening reception on Saturday, December 1st around 7:00p. Hamish Kilgour of The Clean will be making a special trip down from NYC to accompany Dan, along with Paloma Dare. This is a rare pleasure that you don't want to miss. Stay tuned...

Statement:
The drawings are all (with one exception) 9X12 and are charcoal (with some touches of acrylic and colored pastel) on treated/stained/artificially aged paper.
I draw compulsively, and rapidly, and try very hard to fool myself into doing something that doesn't look like I did it, by handicapping myself with little shards of charcoal, rain ravaged pastel, etc.
I am happiest with the simplest and most open to interpretation images. So far I have amassed in excess of 500 of these drawings. 1 in about 30 is something that I would consider usable.
These drawings are at the other end of the scale of any kind of virtuosity. An attempt to empty out all the technique and flash from the practice. I have been extremely influenced by various people such as guston, forrest bess and joe bradley in this, but dropping such names is probably a one way route to being pigeon holed/stereo typed/pinned down, etc.
I would just say that after 40+ years of scribbling, I find these things to be the closest to what I was going for all along. So, that's a result!