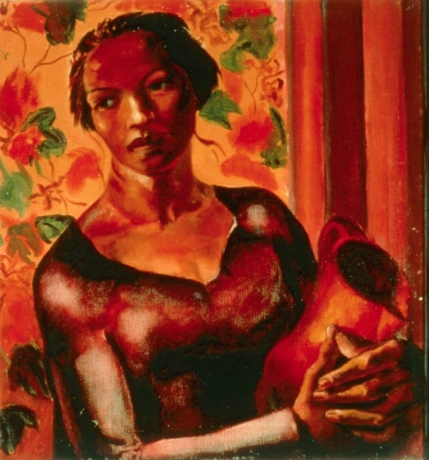 Exhibitions
THE HARMON
Akinola Lasekan
William H. Johnson
Clara Ngu
Ben Enwonwu
Claude Clark
Malvin Gray Johnson
Gerard Sekoto
Arthur Leroy Bairnsfather
Ibrahim El-Salahi
Albert Alexander Smith
James A. Porter
Romare Bearden
Betsy Graves Reyneau
George O. Talabi
Selby Mvusi
The Harmon
Fisk University Galleries has been celebrating the 50th anniversary of the Harmon gift to Fisk throughout 2017 with solo exhibitions of artists promoted by the Harmon Foundation. The Harmon will highlight a range of twentieth-century African-American and African artists included in the Harmon gift.
The Harmon Foundation was founded by real-estate developer William E. Harmon in New York City in 1922. The Harmon highlighted the achievements of African-American artists through exhibitions and awards with cash prizes from 1926 to 1930. The Foundation aimed to make it possible for African-American artists to continue to achieve excellence within their field, and its promotion of their work made a profound impact on American culture in the 20th century and influenced a generation of artists.
The Harmon's annual exhibitions traveled nationally to venues such as the Denver Art Museum, Howard University, the New School for Social Research, and Fisk University from 1928 to 1933. In the 1920s and 1930s the Harmon Foundation exhibitions were featured in Fisk University's first Spring Arts Festivals. By 1933 the exhibition received over 400 applications from artists around the world. Over the next 45 years the Harmon continued to organize exhibitions and propelled the careers of a number of artists, including William H. Johnson, James A. Porter, Malvin Gray Johnson, Claude Clark, Ben Enwonwu, and Ibrahim El-Salahi. These artists' works have been collected by the world's leading institutions, including the Metropolitan Museum of Art, Smithsonian Institution, Tate, and others. The Harmon Foundation exhibited and developed the careers of these artists at a time when major museums were not actively collecting and displaying their works.
In 1967, the Harmon Foundation distributed its world-class collection to select institutions, including the Smithsonian, Hampton University, and Fisk University. Aaron Douglas, founding chair of Fisk's art department, was instrumental in bringing the Harmon Foundation works to Fisk. The Harmon allowed artists to share their voices and reach broad audiences at a time when they could not. We are proud to celebrate the legacy of the Harmon Foundation.