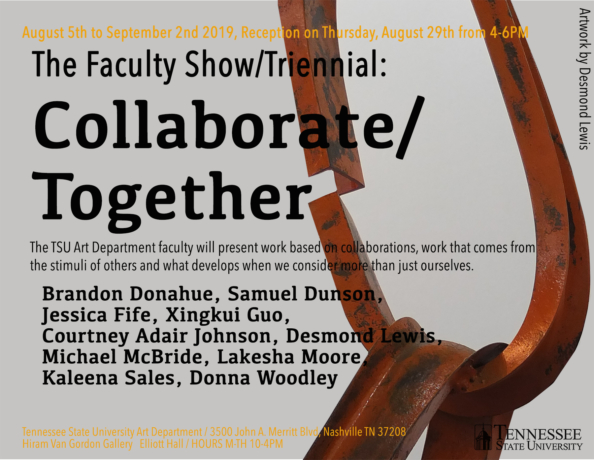 Exhibitions
THE FACULTY SHOW/TRIENNIAL: COLLABORATE/TOGETHER
Brandon Donahue, Samuel Dunson, Jessica Fife, Xingkui Guo, Courtney Adair Johnson, Desmond Lewis, Michael McBride, Lakesha Moore, Kaleena Sales, Donna Woodley
Tennessee State University's Art Department starts their Fall 2019 schedule off with The Faculty Show/Triennial: Collaborate/Together. The show will highlight professors and staff, presenting work based on collaboration and what develops when we consider outside stimulus.
Artwork from Brandon Donahue, Samuel Dunson, Jessica Fife, Xingkui Guo, Courtney Adair Johnson, Desmond Lewis, Michael McBride, Lakesha Moore, Kaleena Sales, and Donna Woodley will be displayed in the Hiram Van Gordon Gallery from August 5th to September 9th 2019, with opening reception August 29th from 4-6pm.
Collaborations look different to each individual artist, coming from varying inclinations. Inwardly to outwardly, artists develop their own ways to have this conversation. The painting of an image to further an exchange because an exchange is needed, to the color that you choose to accentuate a movement/area become voluntary to involuntary ways to incorporate outside prompts. Images of those we know and love show up. Some conversations about life and death need participants to tell, listen and respond to the story. We revisit history to have present day conversations even offering others an opportunity to add to the story. Graphic Designers listen to clients, sights and sounds are picked up and regurgitated into your own psyche. We as artists know that, expect that, and even let it guide us.
In this show, paintings, graphic design work, books and sculptures appoint the walls and floor of the gallery, giving the students and community a glance at the movement and means of the Art Department at TSU.
For more information contact Gallery Director Courtney Adair Johnson, cjohn173@tnstate.edu.
The Tennessee State University's Art Department chooses a curatorial and academic theme for each year. 2019 is based on Community.