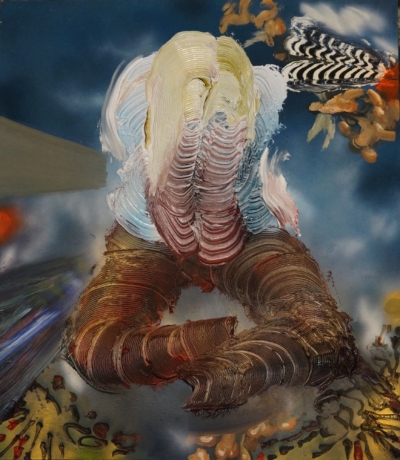 Exhibitions
ELEANOR ALDRICH: THE DENISOVANS
Eleanor Aldrich
Channel To Channel is pleased to present Knoxville based artist, Eleanor Aldrich. Aldrich's work explores the boundaries between painting and sculpture. Figures are made by combining thick globs of oil paint and caulking. The immediacy of the drawing pushes against traditional associations of slowly built up oil, but retains its richness. There its a feeling of excess and a lack of control that plays with the subject matter.
Eleanor Aldrich was born in Springerville, Arizona. A participant at the Skowhegan School of Painting and Sculpture in Maine, she also holds an MFA in Painting & Drawing from the University of Tennessee, Knoxville, where she currently lives. She earned her BFA in Painting & Drawing through the Academie Minerva (Groningen, the Netherlands) and Northern Arizona University, Flagstaff. She was recently a participant in the Drawing Center's Open Sessions.
Eleanor has had solo shows in Boston, Knoxville, and Flagstaff, AZ. Her work has been shown at Saltworks Gallery (Atlanta, GA), the Drawing Center (New York, NY), Grin (Providence, RI) and Ortega y Gasset (New York, NY). Her work was chosen for 1708 Gallery's 'FEED 2013' (Richmond, VA). She has been awarded an Endowment for the Arts through the Whiteman Foundation, and the Herman E. Spivey Fellowship. Her work has been included in New American Paintings and on Artforum.com.