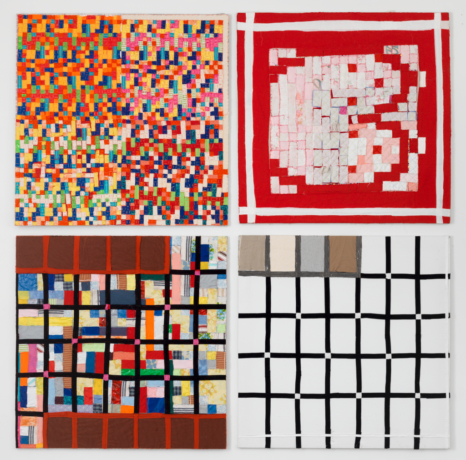 Exhibitions
THE CALENDAR SERIES: COURTNEY PUCKETT
Courtney Puckett
COOP Gallery is pleased to present The Calendar Series, a solo show featuring recent work by Courtney Puckett. Puckett's work work reconciles the perceived inferiority of fiber and craft materials with the assumed superiority of paint, concrete, steel and the disciplines of painting and sculpture. What began as an intuitive gravitation away from painting and toward 'non-traditional' soft-materials became a determined attempt to disrupt hierarchical and categorical divisions within art.
Regarding her practice, Puckett remarks:
"Through sculpture, I engage line, shape, scale, and proportion by re-constructing furniture and bric-a-brac from my apartment building, neighborhood, and local thrift stores. The hybrid forms are wrapped with old bed sheets, clothing, and string adding color and texture. The seduction of materials is immediate while the familiar yet strange forms require a slower interpretation of meaning.
…The Calendar Series, exchange sculptural forms for flat surfaces in which to arrange patterns and explore the sewn line. References are drawn from the cultural and mythological associations of the 12-month calendar year. I use a systematic approach to repeating motifs and symbolic color often beginning with hand drawn plans on graph paper. My primary materials, old and used textiles, bring familiarity and softness to otherwise hardedge abstractions. This symbiosis comes out of my interest in reversing a recent trend in painting wherein paintings refer to quilts and textiles."
More about the artist:
Courtney Puckett lives and works in Brooklyn, NY. She holds a BFA from MICA and an MFA from Hunter College and studied at the Center for Art and Culture in Aix-en-Provence, Glasgow School of Art, and University of New Mexico. Puckett has been an Artist-in-Residence at the Vermont Studio Center and Byrdcliffe Arts Colony. Group exhibitions include BRICArts, Wallspace, Noyes Museum of Art, CUAC Utah, Seton Hall University, Long Island University, and Jamaica Center for Art. Puckett is a recipient of a National Endowment for the Arts project grant and was featured on Hyperallergic and NYTimes art blog.
More about COOP: COOP is a curatorial collective made up of artists, curators, thinkers and professors who are committed to expanding Nashville's dialogue with contemporary art by presenting challenging new or under-represented artists/artworks to our community. COOP is committed to exhibiting art of diverse media and content, with a goal to provide an alternative venue for artists free from the constraints of the retail market. COOP seeks to initiate a discourse between Nashville and art scenes across the country by inviting artists to show, develop projects and interact with the Nashville community. Website: www.coopgallery.org