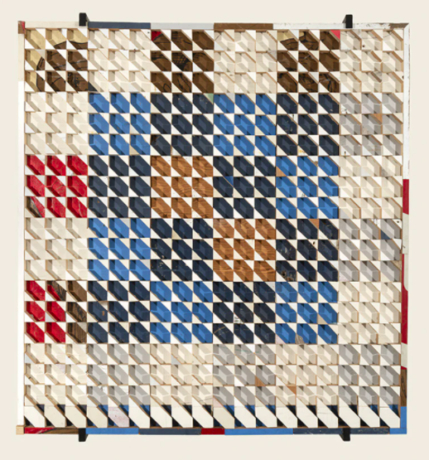 Exhibitions
TACTILE RESPONSE
Maysey Craddock, Tim Crowder, Brandon Donahue, Greely Myatt, Mary K VanGieson, Tad Lauritzen Wright
Tactile Response is a group exhibition highlighting the work of six artists: Maysey Craddock, Tim Crowder, Brandon Donahue, Greely Myatt, Mary K VanGieson, and Tad Lauritzen Wright, each known for their use of found materials and tactile approach.
Tune into the virtual art crawl with guest speaker Sara Lee Burd at 6:00pm on June 6.
Known for her gouache paintings of ephemeral landscapes on found paper bags, Maysey Craddock presents "Trophy." Often referencing the shape of tree branches, roots and rivers in her paintings, Craddock brings her source material directly into the gallery. Comprised of a found tree branch suspended in air, "Trophy" plays with the viewer's expectation of light and shadow while referencing our delicate relationship to the natural world.
Through his use of found objects and non-traditional materials, Tim Crowder explores concepts of reality, fantasy, form and perception through the guise of surrealism. For "Tactile Response," Crowder presents 12 works from his "Small Paper and Wood Project." Small in scale and installed in a grid, each work demonstrates Crowder's interest in the mysterious nature of objects and the function of art itself.
Informed by street art, pop art and Arte Provera, Brandon Donahue collects repurposed everyday objects to create assemblages that break down the barriers between traditionally-defined high and low art forms. Comprised of found basketballs and shoelaces, "Basketball Bloom (Rawlings)" references the sacred geometry of a Mandala through materials loaded with communal history and shared experience.
Known for his whimsical sculpture and large scale installations, Greely Myatt engages with surrealism, pop, folk and outsider art through the use and manipulation of found objects. As a lifetime southerner, Myatt references the deep history of quilt making in "Broadway Boogie Woogie." Reclaimed wood and steel mimic the traditional lines, patterns and shapes associated with handmade quilts, playing with concepts of place, history and craft.
As an artist, educator and writer, Mary K VanGieson creates work that tells a story, often dealing with themes of cover, cloak, shadow, loss and erosion. Comprised of an antique iron and crocheted yarn, "Sad Iron" speaks to the history of domesticity and the art of contemporary craft. VanGieson notes "sad" is an Old English word for "solid." The term "sad iron" defines the largest and heaviest of flat irons which usually weigh five to nine pounds. Her artistic piece uses an early electric sad iron, invented in 1882.
Through experimentation with process and possibility, Tad Lauritzen Wright moves between improvisation and control to employ, found objects, bold patterning, graphic lettering, shocking colors, children's imagery and unusual perspectives. His installation "Perceived, Remembered, Imagined, Distorted," features two bulbous ceramic vases coated in bright geometric patterning perched on found cinder blocks, raising questions of authorship, art versus craft, and artist versus viewer.
---
David Lusk Gallery is located in the Wedgewood-Houston neighborhood of Nashville. Gallery hours are 10 a.m. to 5:30 p.m. Tuesdays- Fridays and 11 a.m. to 4 p.m. Saturdays.