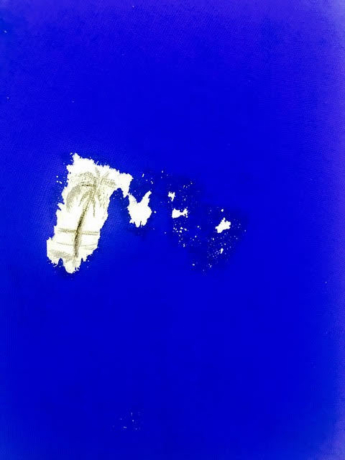 Exhibitions
SUMMER SERIES: HOUSE GUESTS – KING TIDE
Tyler Beard, Jamie Bull, Jane Garver, Kelly Kristin Jones
COOP Gallery is pleased to present its second annual summer series of exhibitions entitled House Guests.
For the months of July and August, COOP has invited two different curators from around the region to take over our space. We are thrilled to host curator Daniel Fuller from Atlanta Contemporary for the July exhibition. Please see his press release below.
---
Atlanta Contemporary presents King Tide, a four-person exhibition with works by Tyler Beard, Jamie Bull, Jane Garver, and Kelly Kristin Jones. A few months ago, I was drifting off to sleep while the lull of a CNN report hummed gently in the background. It was a story of a man in his late 50s who had lived in South Beach, practically the same condo, his entire life. Thru his life he has watched sea levels wax and wane, his short- legged dogs bearing the majority of the brunt on their daily walks. His current crew of a dachshund named Fritz and two Corgis named Baron and Willie find water lines up to their collars after the most minor rains. I wandered deeper into my doze and dreamt of Atlanta, the seaside paradise. The sun shining down on soft white sands, clear blue water undulating towards the foamy Decatur coast.
More about the artists:
Tyler Beard holds an MFA from the University of Colorado, Boulder, and a BFA from the University of Kansas. In the summer of 2008, Tyler traveled to Germany where he was an Artist in Residence at the Ceramic Center Berlin. Beard has participated in numerous exhibitions at institutions including the Boulder Museum of Contemporary Art, Anderson Ranch Arts Center, Central Utah Arts Center, and the Biennial of the Americas in Denver. Recently he had his first solo museum exhibition at the Museum of Contemporary Art Denver. He is represented by Robischon Gallery and currently lives and works in Atlanta, Georgia.
Jamie Bull received her MFA from the University of Georgia, Athens in 2013. She is a recipient of the Willson Center for the Arts research grant for her thesis work Lady Beasts: An Investigation of Womanliness. She has exhibited with the Doppler Project, the Mint Gallery, the Athens Institute of Contemporary Art, Hotel Indigo and the Hudgens Center. She is a Vermont Studio School Fellow and recently attended a residency at the Bernheim Arboretum in Louisville, KY. She was featured in the 219th edition of Ambit Magazine, London. She is currently an Adjunct Instructor at the University of Georgia teaching Color and Composition.
Jane Garver is a sculptor, performer, and sound artist living and working in Atlanta. Her sound works explore isolation versus connectivity in public spaces, beginning with subtle repeated experiments in trust and reciprocity. She has created site-specific public sound sculptures for the Architecture Triennale in Lisbon and La Friche Belle de Mai in Marseille, France, with Zurich-based Sound Development City, as well as produced a sound composition for Saout Radio that played in taxicabs throughout the 5th Marrakech Biennale in Morrocco. In Atlanta, she has created public works for Flux Projects, the Atlanta Beltline, WonderRoot, and the Goat Farm, among others.
Kelly Kristin Jones earned an MFA from the School of the Art Institute of Chicago (2012) and currently teaches at Georgia State University. Jones is the recipient of a number of prestigious awards including the Forward Arts Foundation Emerging Artist Award (2015), the Southwest Airlines Arts and Social Engagement Prize (2013), the MINT Gallery Leap Year Artist Award (2013), the James Weinstein Memorial Fellowship (2012), The Union League and Civic Arts Foundation Prize (2011, 2012) and the Municipal Art League Fellowship (2012).
About the curator:
Atlanta Contemporary engages the public through the creation, presentation and advancement of contemporary art. We are a community that offers ever-expanding support for the creation and appreciation of contemporary art. Our Studio Artist Program supports local working artists by providing subsidized studio space and by fostering a collaborative environment supportive of the creative process.
https://atlantacontemporary.org
Daniel Fuller has been the curator at the Atlanta Contemporary Art Center since December 2014. Prior to this he had been the Director of the Institute of Contemporary Art (ICA) at Maine College of Art. He has curated exhibitions at ice fishing shacks, a swap meet, the JumboTron of a minor-league hockey stadium, on public access television, and in several closets. Fuller received his MA in Museum Studies from Syracuse University. He has written for Art in America, Afterall, Art Asia Pacific, and Art Papers, Frieze, among numerous artist catalogs. A book of essays titled 'This is not here' will be published in 2016 with Publication Studio. He has previous curatorial experience with the Pew Center for Arts and Heritage in Philadelphia and Hudson Valley Center for Contemporary Art in Peekskill, NY.