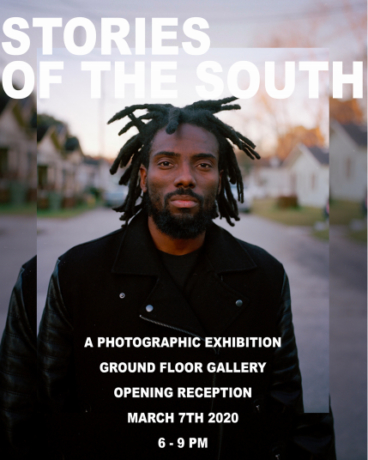 Exhibitions
STORIES OF THE SOUTH
Phillip Abbot, Brennan Booker, Abbey Bratcher, Jemma Castiglione, Ashley Gates, Sarah Haig, Jessica Just, Cocoa Laney, Lara Morgan, Joe Nolan, Shannon Randol, Sarah Smith, Sean Thomas, Andrew Turner, Jordan Whittens
Stories of the South is a photographic exhibition featuring photographers based out of the South and those who have spent time in the region. This show is comprised of 15 artists including Phillip Abbot, Brennan Booker, Abbey Bratcher, Jemma Castiglione, Ashley Gates, Sarah Haig, Jessica Just, Cocoa Laney, Lara Morgan, Joe Nolan, Shannon Randol, Sarah Smith, Sean Thomas, Andrew Turner and Jordan Whitten. This show gives viewers an insight into the "New South," where tradition and progression meet. Here we hold up many different experiences and voices that may have yet to be heard. In his personal essay, "Looking in the Mirror," author Silas House describes the region of the South:
"For many Americans, the South is the Other, but in my experience, the South is a mirror, a microcosm of the rest of the country. While things may sometimes seem more pronounced here— and that's certainly been the case in the way people have voted here lately— the fact is that the South is a whole lot like the rest of the country. Injustice and intolerance exist here, and everywhere. The South is changing, but resisting those changes with all it's last, dying gasps, just as the rest of the country is. The South has a plethora of problems— the legacy of racism chief among them— but when people blame all the racism, homophobia, and sexism on one part of the country, it lets the rest of the country off the hook."
Stories of the South brings many diverse narratives together from what Sean Thomas captures of the hip hop scene in Savannah, Georgia to Jordan Whitten's observations into the "array of tenuous relationships between mankind and controlling nature" surrounding the Boone Dam in Tennessee. Cocoa Laney explores the relationship between young women and non-binary people in many Alabama towns and visually documents "conversations about shame, religion, and gender identity." Her "trip became a pilgrimage to find intimacy and connection in a region that can feel simultaneously familiar and inaccessible, even to those who know it best." This exhibition digs past the first layer of preconceived notions about the region and reveals 15 different versions of the real Stories of the South.