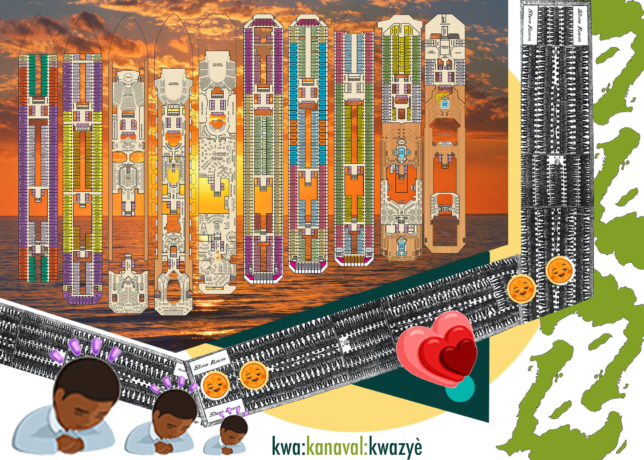 Exhibitions
JOSHUA A. FORGES: KWA:KANAVAL:KWAZYÈ
Joshua A. Forges
AS A RESULT OF CLOSURES DUE TO COVID-19, PLEASE FOLLOW GALLERY WEBSITE AND SOCIAL MEDIA PLATFORMS FOR SCHEDULING UPDATES AND VIRTUAL EXHIBITION CONTENT.
---
The Department of Art at Vanderbilt University is proud to open the 2020 new year with the return exhibition from 2018 Margaret Stonewall Wooldridge Hamblet Award recipient, Joshua A. Forges.
kwa:kanaval:kwazyè (translation cross:carnival:cruise) is an installation by Joshua A. Forges that explores Haitian diasporic culture from an autoethnographic perspective. Following his travels to Boston, Miami, Montreal and New York, Forges traced the conditions of Haitian migrations where exiles have continued to flee the island due to civil unrest, natural disasters, and life under a brutal dictatorship. For this project, Forges pieces together "a foreign narrative of woe" that, for him, transforms "confusion into awe."
Using appropriated kanaval objects, video footage from the celebration, family vacation photographs, and Haitian Vodou imagery, this installation reveals his intrinsic curiosity with objective and subjective heritage, particularly at a time when Haitian identities have increasingly been called into question.