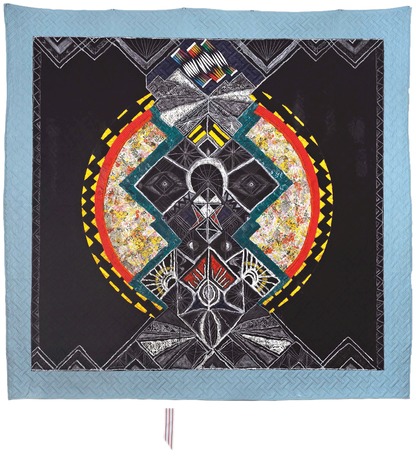 Exhibitions
AMBER ROBLES-GORDON: SOVEREIGNTY
Amber Robles-Gordon
This exhibition features Robles-Gordon's large-scale, mixed-media quilts–assemblages incorporating paint, textiles and hand-stitching–in an interrogation of U.S. policy towards–and governance of–its populated territories and the District of Columbia.
Robles-Gordon creates a communal visual language; one rooted in shared cultural experience and geographical references, drawing upon manifold contexts and traditions: indigenous art, the Washington Color School, personal symbolism, domestic yet culturally essential rituals such quilting and much more.
Textiles, geometric forms and calculated markings accompany the deconstruction of the national seals and flags of current US territories on the front–or "political"–side of each piece, in order to give critique to the Ill and unequal treatment of the US Citizens that reside in the territories. While the "spiritual" sides are the inverse: colorful and prismatic; arranged to reflect the visual light spectrum. These abstracted, meditative portals are suspended in black and white planes, a juxtaposition which serves to ground the viewer.
Each piece becomes a physical barrier; the quilt, signifier of comfort and motherhood, is elevated, transformed into a shield. The language of abstraction–form and color and gesture–allows the possibility of liberation, a disruption of state monopoly over language and meaning. The objects are talismans of resistance, of hybridity, of humanity and of intersectional identity.